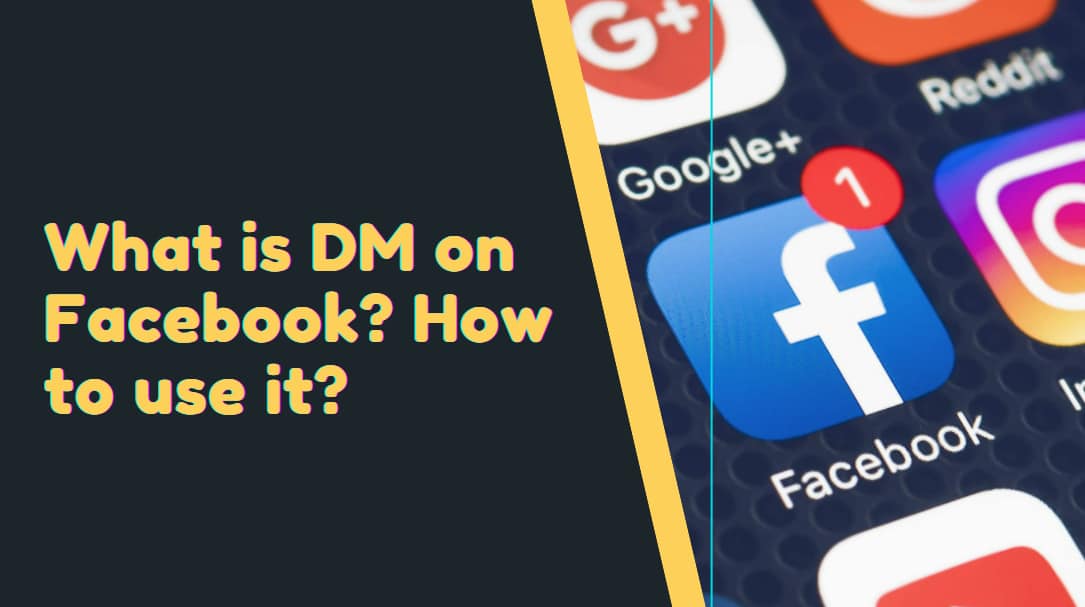 The terms DM differ from context to context. In medical, DM stands for Doctorate of Medicine, and in social media, DM stands for Direct Message.DM is social media is commonly used by the active user. Many of us wonder what this DM is?
In this article, our tech room will talk about What DM is and how it is used on Facebook, Instagram, Twitter, etc.
What is DM?
DM in social media is an abbreviation for Direct Message which is the private communication channel for private conversation between users on any social media platform. It is typically used for communication between two people who wish to keep their conversation private. So, the message is only visible to the sender and receiver.
Depending on the platform, you can send photos, videos, or text to someone privately and initiate a conversation with them without being friends.
DM term is frequently one of the most popular slang terms on social media platforms. You have also heard about the slang word PM which stands for Private Message or Personal Message. The term Direct Message is interchangeably used with PM in social media.
These acronyms are used to reduce the speaking time in conversation and to confuse the outsiders while providing a sense of inclusion to those who understand them.

Note that: You don't have to be friends for DM.
What is DM in Facebook?
Ans: DM abbreviate is widely used in Facebook.Facebook uses Messenger for Direct messages.
When you are on Facebook and you like a post and begin a conversation in the comments section of that post, then users who posted will say "check your DM." because they do not want to share the conversation with others. Now you should check your messenger app because there you will have a private message sent by the owner of the post. Now you and the owner of the post can communicate in private without letting the public know about it.
What is "PM me on Facebook" comments mean?
They say this in order to begin private communication. If you see "PM me on Facebook" in a post, it means the owner of the post on Facebook prefers private communication. So, you simply ping the post's owner in Messenger and begin the conversation.
If someone says "PM me on Facebook" you should contact him or her via messages. It indicates that the person does not want you to make a public comment. He wishes for you to contact him directly.
They may say "PM me on Facebook" or "DM me on Facebook".Both give the same meaning.
What is "Check your DM" mean on Facebook?
In Facebook, if someone tells you to "check your DM(Direct Message)" it simply means to check your Facebook Messenger message box. They have messaged you and want you to check their request and accept and reply to it privately. It is just like moving from a public communication platform to a private platform without leaving the public platform.
In simple words, If someone tells you to check your DM, it means they have messaged you and want you to accept and respond to their request.
What is the requirement for Direct Message?
For Mobile, you must have Messenger apps installed on your phone for Direct Messages. It is a separate app from regular Facebook Apps.
 For a web browser, you only need a browser that allows facebook.com to access along with Facebook credentials. You do not need separate Facebook apps and messenger apps installed on your computer.
What is the restriction for DM on Facebook Page?
There is a restriction for DM on Facebook. Users must "like" a page before you can send them a direct message.
What is DM for Promotion?
DM for Promotion is one of the forms of advertising. You can find DM for Promotion on Instagram, Tiktok, or Facebook profiles or when someone tags you in their story or feed. There could be a variety of things to promote. Depending on the platform, they can promote a variety of things.
In TikTok and Instagram, for example, DM for promotion is likely to gain more followers or likes to promote your product. If you want more followers, please DM me. As a result, it is also DM for promotion.DM for Promotion on Facebook is likely to promote your product. As they say, if you want to promote your product, please DM me. As a result, it is DM for Promotion. It's also a good form of advertising that you're getting for free.
This process who does shoutout for your products or your username then expects money from you. But this does not guarantee whether the conversion rates will be high or not. It depends upon the persons promoting the products. But promoting organically seems to be a better method for promoting the product.
How does direct messaging help to achieve business goals?
So those who have lots of followers on social media. And has good conversion in visitor then through dm they can promote a large variety of products.
What is the meaning of "DM me your pic"?
This means that this person has asked you to send your picture via direct message. i.e. send me your photo via personal inbox or direct message.
If the sender is completely unknown to you, I recommend that you do not send him/her your photo or videos. Only share your photos/videos if you know the person well and are certain of their intentions.
Pic here is short for Picture.
How to find someone DM you on Facebook?
Here are the steps to find out if someone has DM you on Facebook or not.
1 Just open your Facebook and click on the Lightening icon located at the top right corner which is actually a messenger.
You will get the list of messages /chats. If someone DM you just now then it will be on the top list.
How to DM someone on Facebook?
Here are the steps to DM someone on Facebook:
1 Goto Facebook app and search for the user you want to DM and click your desired user from the list.
This will open his/her profile page.
2 Just click on Lightning Message Icon and Start typing your Message. 
This will create private communication between you and the users. In this case, you do not have to be friends with each other. This is a very useful feature of Facebook.
How do I send PM or DM to a Facebook Page?
You can only do this if the page has turned on messaging. If the features are turned off you cannot find Lightening messaging icons.To send a private message 
to a Facebook page follow the below steps:
1 Click pages in the left menu from your News Feed.
2 Navigate to the page where you want to send a message.
3 Below the page cover photo, click the Lightning icon labeled Send Message.
4 To send, type the desired message and press enter.
What's the difference between IM and DM?
Instant Messaging is abbreviated as IM. IM is commonly used on platforms that are primarily used for messaging, such as Hangouts.DM, on the other hand, is an abbreviation for a Direct Message.DM is a term used on platforms that are not for messaging like Facebook, Instagram. You can use Messenger for Direct messages.