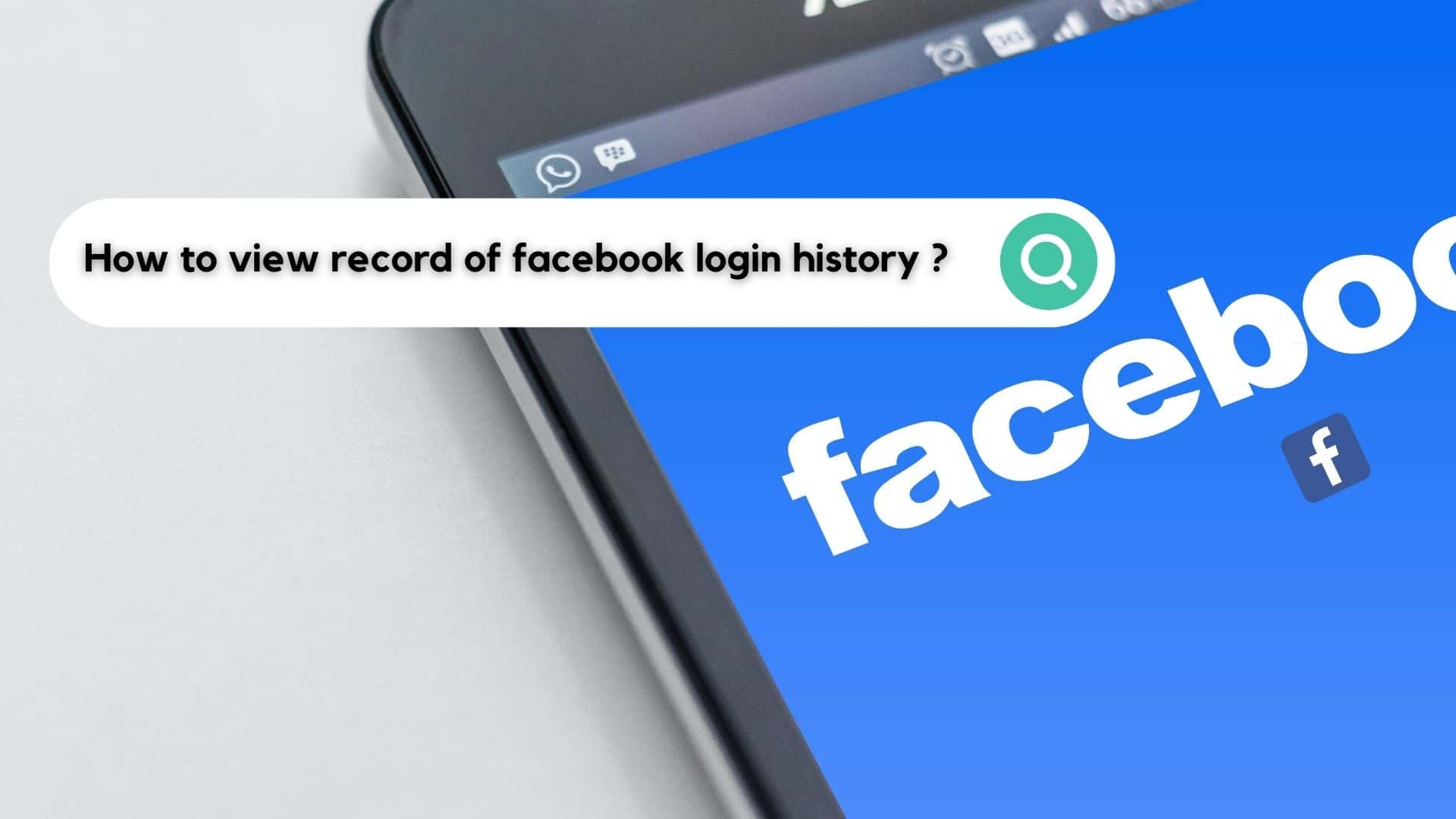 Facebook is a popular social networking platform where people share photos and thoughts that reach a large number of people. Sometimes you want to post a photo or express yourself and you don't have your phone with you. If you're at a friend's house and want to use Facebook, you'll log in to your friend's laptop and forget to log out from that laptop then you want facebook login history to see when and where you are logging in to Facebook and delete the target login sessions.
If you've used Facebook from various locations and devices and are curious about where your Facebook account is signed in from, you can track that activity on Facebook. You can view your sign-in history, which includes login/logout dates and times, geographical location of your login, which devices you are using while logging, active facebook session of logging, active time of logging, where you have logged in, device types, and so on. This facebook session history features are very useful and rarely used by people. Goto your Facebook as soon as possible to delete login history before a suspicious user deletes login history and changed the password.
Ourtechroom will show you how to locate and view your Facebook activity login history. Let's get this party started.
Using Smartphones (Android, iOS)
You can easily find your Facebook login history on the smartphone. For Android and iOS the process is the same and are as follows:
1 Open your Facebook App

2 Click on 3 horizontal Bar 

3 Scroll down and go to the bottom of the page and click on "Settings & privacy"
4 Then click on "Settings"

5 Then click on "Password and security"

6 Under "Where you're logged in"  you will screen a few login devices, location, and time. Active facebook session of logging etc.
7 Click on See all on the right side of Where you're logged in. This will display all your Logins locations, time, and devices.
We can see that my Facebook account is logged in from a Windows PC using the Chrome browser and the FacebookAPP from the Kathmandu location at various dates and times.
If you suspect any of these logins, you can log them out by clicking the three dots located on each row of Logins Info. Then click "Logout," which will log you out of Facebook from that device.
If you discover multiple suspicious logins, you can log out of all sessions by clicking on the "LOG OUT OF ALL SESSIONS" link at the bottom of the websites.
Using PC/ Laptop web browser
Using a web browser on your laptop and desktop we can easily view facebook login history.The steps are as follows:
1 Login into your Facebook account
2 Click on the down-arrow button
at the top right corner.
3 Click on "Settings and privacy"
4 Click on "Settings"
5 Click on "Security and Login" in the left side panel. Then, on the right, you'll see basic Facebook login information such as active login Facebook info, location of login, date and time of login, a device where login is performed, and so on.
6. Click on "See all" to view all Facebook login history.
Some of the best practices you can follow before facebook in unknown places.
Login to Facebook only in private mode like Google Chrome Incognito mode.

Enable two-factor authentication

 

Log out all Gmail sessions after you have done your work

Use auto logoff browser extension.
View Facebook Login by downloading a copy of the facebook backup
You can also view your Facebook login history at any time by downloading a copy of your Facebook data. You can download the entire copy, a specific type, or just the security and login information.
Steps for downloading a copy of Facebook backup:
1. Click on the down arrow icon located at the top right of Facebook
2. Select "Settings & Privacy" From the dropdown and then again click on Settings.
3. Then on the left side you will find "Your Facebook information".Click on it.
4. Click on the View label next to Download your Information.
5. Then scroll down and click on Download Your Information Label.
6. Then on the next screen it will allow you to download your Information in Html and JSON format. Then select quality Media Quality(either High, Medium, Low) and Date Range. Now, go down and you can see you can select particular information to download. If you just want to download Login Activity information then just uncheck all the fields and then only check the Security and login information label and then come to the button and click on the Request to Download button. Now it will start to download and will notify you of the copy in your mail.
FAQ:
How to know your last login Time on Facebook without logging in to Facebook?
Ans: If you want to know when you last logged in, have a friend open your chat on the messenger app on a computer or smartphone. Then find you there and you will get the last active sessions time like Active 23 min ago.
Can I see a history of failed login attempts on Facebook?
Ans: You cannot view login failed attempts on Facebook as Facebook doesn't provide you with such information. Facebook only logged successful attempts.

You cannot view the failed login attempt, but you can be notified via email or Facebook's notification section about a recent login location and time. You can also enable OTP-based authentication so that if you try to log in successfully by entering your password and email address, it will fail.
However, the suspicious user is unable to log in unless he enters the OTP code.
Why does my Facebook login history say I logged in in a different state than I'm in?
Ans: Your log-in details were stolen and someone used them to log in from elsewhere.
Why is my Facebook account showing the wrong login location?
Ans: Your login information may have been stolen, so please go to login history and log out that credential. It's possible to show different locations if you're using a VPN, proxy, or NAT. Also, Facebook using a GPS system is showing incorrect locations because of various reasons.
Simply keep your Facebook, iPhone, and computer up to date.
Can I hide my facebook IP address from my Facebook login history?
Ans: Use VPN, proxy or NAT, etc.
Is Facebook sending you notifications when someone tries to log into your account?
Ans: If any user, including you, attempts to access your Facebook account, Facebook will notify you via messages. Facebook will notify you that "someone recently attempted to login to your account from an unrecognized device or mobile device." These login attempts will not appear in your Facebook login history list.