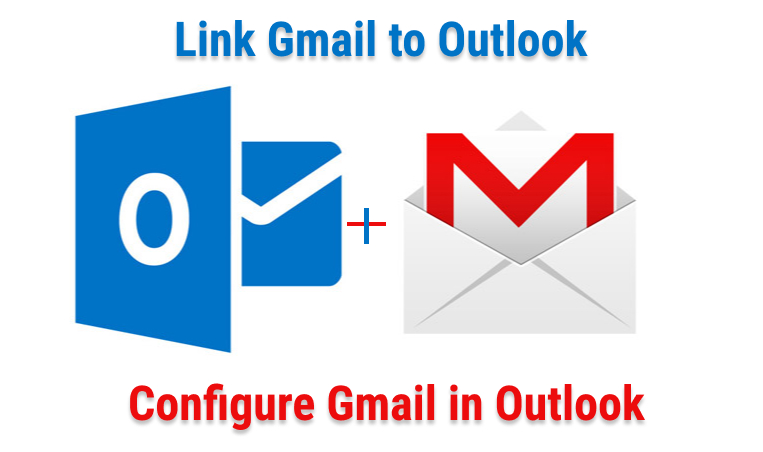 There are many free mail services in the market among them two biggest competitors are Outlook and Gmail. Outlook is an email service provided by Microsoft and Gmail is also an email service but provided by Google.
Why link Gmail And Outlook Together?
Most of the users have more than 1 mail. Suppose someone has both Gmail and outlook. Now the problem is if you want to look at what is in the inbox then you have to look in two places. The inbox of outlook and inbox of Gmail in two separate places. So, to solve this problem Microsoft and Google work together and allow each other to access mail service. This helps to make the life of the user easier. Now user can link or sync Gmail account to Microsoft account so that using one application outlook you can access both Gmail and outlook mail from one place. So, those emails will be auto synchronized between Google and Microsoft data centers.
So, it is helpful for those people who have multiple email accounts and want to consolidate them. So, if you preferred to use Microsoft Outlook interface for Gmail account and Outlook account then here are step for this.
Why configure Gmail Account in Microsoft Outlook?
Ans: Why most of us configure Gmail account in Microsoft outlook instead of MS Outlook in Gmail? Here is the answer.
1 Managing email accounts with Gmail is not easy, whereas with outlook you can easily manage multiple mail account.
2 Outlook has its own desktop client application and provides a great experience on windows 10. Whereas Gmail does not have an official desktop mail client application.
3 Outlook provides offline access to email but you cannot access offline access to Gmail.
Step by Step to Configure Gmail Account in Microsoft Outlook 
Step 1. Enable IMAP in Gmail Account
First of all, you have to enable IMAP in your Gmail account so that other mail servers can use it.
 1.1 Login into your Gmail account.
 1.2 Click on Gear Icon located in the top right corner.
 1.3 Click on "See all settings".
 1.4 Navigate to the "Forwarding and POP/IMAP" tab.
 1.5 Under IMAP Access, select the "Enable IMAP" checkbox.
Step 2. Setting in Outlook
In this article, I am using Outlook 2019
2.1. Open Outlook Application
2.2. Click on File and Then under Info SideNav click on "Add Account".
2.3. In popup type the email address you want to configure and click "Connect"
2.4. Next in Advanced Setup, select IMAP mode
In a previous version of outlook, we have to set incoming server, outgoing server, ports for Gmail but outlook 2019 automatically does for us. 
2.5. On the next screen it will ask google Gmail account and password. Enter the details.

2.6. Next screen will ask you permission to allow Microsoft apps & services following items. Just Click on Allow
2.7. Click on Done. That's it.


Now you must see your Gmail on the right side as shown below.
Here, you will see inbox, outbox, and many more features which is present in Gmail.
Sometimes you may not get every mail, to make sure everything syncs properly. Follow below step
2.8. At the title bar click on the "Send/Receive" menu.
2.9. Click on Send/Receive All Folders Option. 
Then it may take time depending on your Gmail mailbox. If your mailbox size is large, then it may take few times for the initial download of your mails to outlook.
Using the same process you can add more Gmail account to outlook.
Enable Disable Folder in Gmail 
By using "Show in IMAP" we can enable and disable the folder present in the Gmail account in outlook." Show in IMAP" displays those folders that are to be synchronized if you have an IMAP connection to an email client such as Outlook.
By default you may only get Inbox, Sent Mail, Trash, Drafts, Important, Spam, Starred of your Gmail will be in Outlook. But you can control by adding and removing labels present in Gmail account.
Steps for adding Labels 
1 Goto your Gmail account to which you have to configure outlook.
2 Click on Gear Icon (⚙).
3 Click on "See All Settings" from the menu.
4 Click on the Labels tab under settings.
Then select those labels you want to show in IMAP. 
You clearly see you can't disable the "Inbox" folder/labels.
Recommendation: Make sure that  Inbox, Sent Mail, Trash, and All Mail is selected in Show in IMAP
Create Own Labels in your Gmail and Reflect in Outlook
You can create your own label in Gmail and by enabling them in IMAP you will be able to see that folder in your outlook.
Here, I am creating a "Quora" Label so that any mail related to quora should be drag into Quora Label. So that the same will reflect in our outlook.
1 Goto left pane of your Gmail account and click on "Create New Label".If you don't get it then first click on "More" and then Scroll down you will get "Create New Label"
2 Give the name of the label. Let's say: Quora
3 Click Create.
Then your quora label looks like this.
4 Select all quora mail and drag it into the quora label.
5. Now to get the same in outlook, 
   5.1 Goto Title Bar  and click on "Send/Receive"
   5.2 Then click on "Send/Receive All Folder" and then wait for sometimes to sync all labels with Gmail.
  Then you will get Quora Label as shown below in outlook. Click on it and get all quora mail here.
FAQ
Can Gmail work with Outlook?
Ans: With the latest Outlook 365 update, adding a Gmail account to Outlook is now easier.