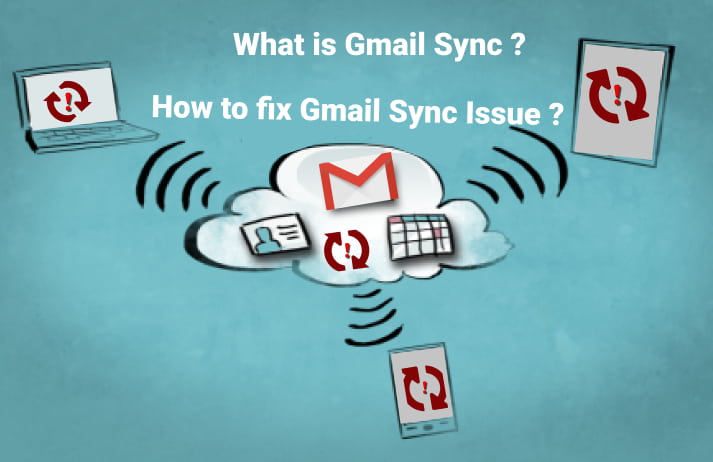 Gmail is one of google's most widely used applications for free email services across all the platforms You can send, receive mail, create an address book, block spam, maintain archive mail, maintain contacts, instant messages, etc for this you just have to have a google account or Gmail account.
Yes, it is a useful application and it is better to know some of its features which is necessary to know like "Gmail Sync" features. There might be a situation like you have logged in to your Gmail on your mobile, tablets, and smartphone. And you perform some actions in Gmail like sending mail to someone, clearing trash mail, maintain an archive on your PC, and when you open Gmail on your Mobile with the same google login then you may not see all those actions perform in your Gmail account on your PC.So,  if you do not have proper knowledge then you will start to worry about it and stop using the application. Do not worry guys, I will help you to understand this Gmail Sync feature. In gist, if you want to maintain the same information across all the platforms then google has provided Google Sync features. Google Sync features help to ensure the same data across all the platforms.
If Gmail sync features are enabled, then suppose have created a mail-in mobile, then it will auto reflects other devices as well.
Google Allow us to sync the following major features:
Google Contacts

Google Play Movies & TV

Google Calendars

People Details

Keep Notes

Drive

Gmail

more ...
Here, we talk about Gmail Sync only.
In broad, In Gmail, all your emails, your actions in Gmail all reside in Google servers. Then suppose auto-sync features are enabled, google performs synchronizes automatically in all your gmails. You do not have to refresh it.
When you perform some action in your Gmail in Web, and then when you login in same Gmail in mobile, then Google automatically synchronizes (google server to your phone) all new data that came since the last login.
It is better to enable this auto-sync feature enabled in your devices.
Some Example:
Send email in Gmail auto reflects in all Gmail Connected devices.

Delete email auto reflects in all Gmail Connected devices.

Archive mail auto reflects in all Gmail Connected devices.

Gmail Contacts auto reflects in all Gmail Connected devices.

Gmail Instant messages auto reflects in all Gmail Connected devices.
Advantages of Gmail Sync
No fear of data loss

Can access your Gmail data worldwide and on any platform.

Auto-sync saves time for syncing your Gmail by automatically performing an action for you.
This not only works with emails but also with other services provided by Google. For example, contact, photos and etc.
In simple words, when the auto-sync feature is enabled, Google automatically synchronizes all new data that came since the last login, from your Google account to your phone. You will get notification of all changes happening to your Gmail automatically. When you enable it, Gmail Sync will run in the background, and it is fully automated ensuring you're always in sync.
What is Server Synchronization?
For sync to happens your devices should not have to be on, because data synced is not happening in the client, it is happening in the server. In the server, it runs all day for ensuring up-to-date information all the time.
What happens if you set sync off ?
Ans: When this option is turned off, you must refresh your email by pulling it down from the top(mobile or Tablet) or press F5(in PC).