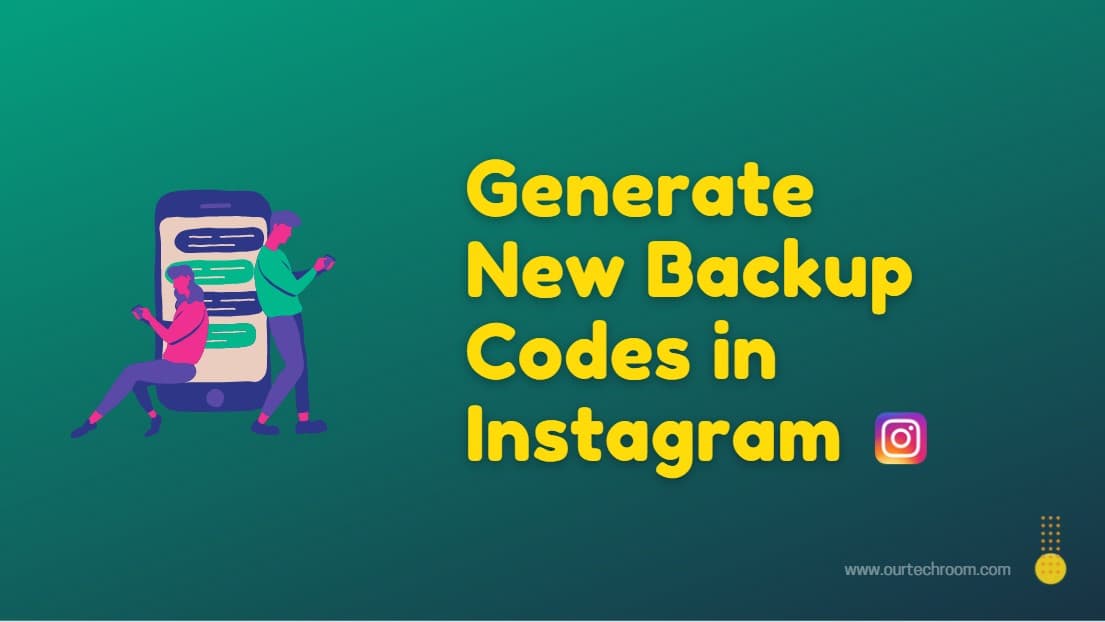 Logging in with your username and password does not appear to be the best way to secure your Instagram account. 2-step/2 factor authentication is unquestionably a better option for securing your Instagram account login.
When enabled 2-factor authentication, then aside from your username and password, you will be required to enter a security code sent to your phone number. As a result, no one else can access your account.
However, you may encounter situations where you are unable to log in to your Instagram account because you do not have phone access if you have a phone but you did not receive notification, or your phone has been damaged or stolen. If you find yourself in this situation, you can proceed to log in with backup codes. Let's take a look at what backup codes are and how to generate them.
Backup Codes
Backup Codes in Instagram are 8 digit recovery codes that are useful when you do not have a smartphone for 2-f verification and you simply need to carry those backup codes with you and then use these codes once. You can now sign in from different devices without worrying about the login.
They act as a backup method for logging into your account if you are unable to access security codes.
But keeps following things in mind
1 When you create new codes, your old set is automatically deactivated.
2 You can obtain a fresh set of 5 backup codes at any time. You need to carry those backup codes with you and use them when need
3 Backup codes can only be used if 2-Step Verification is enabled.
How to generate new backup codes on Instagram App?
If your backup codes are lost or you've used all the codes or your backup codes were stolen, then you generate a new one with the following steps:
1 Click on Profile Picture at the bottom right corner.
2 Click on 3 bar hamburger icon
3 Click on Settings
4 Click on the security
5 Click on Two-factor authentication
6 Click on Additional methods
7 Click on Backup codes. Then by default, you will get the current 5 8-digit backup codes.
9 Click on Get new codes text.
If the code generates successfully then you will get a message saying "New codes has been sent".
10 Just click on Screenshot and this will get saved on your phone.
If saved successfully then you will get a message like "A screenshot of your backup codes has been added to your gallery".
How to generate new backup codes in Web Browser?
Log in to your Instagram in the web browser. Then follow the below steps:
1 Click on Profile Picture at bottom right corner.
2 Click on Settings
3 Click on Privacy and security
4 Under Two Factor Authentication, click on "Edit Two-Factor Authentication Setting"
5 Under Additional Methods, click on Get Backup codes.
6 Click on Get New Codes
If you are unable to receive a security code via text or an authentication app, your backup codes can help you regain access to your account. Make sure you keep them in a secure location.

How to Use new Backup Codes in Instagram?
With the help of the above procedure, you have successfully generated backup codes. Now let's look at how to use them.
Steps:
1 log in to your Instagram using your username and password.
2 In the next screen, you will get the screen to enter security codes. Just below the same screen, you will get the "Try another way" text. Just click on it.
3 Then tap on "Use backup code"
4 Then enter any of your 8 digit backup codes that you have saved earlier.
How to remove backup codes in Instagram?
If you want to remove Backup Codes then you have to turn off two-factor authentication.
FAQs:
Are Instagram backup codes and passwords the same?
Ans: Backup codes are static like passwords. However, users do not reuse backup codes in the same way that they do passwords.
How long are Instagram backup codes?
Ans: Instagram backup codes are 8 digit long numbers.
Why is my backup code for Instagram not working?
Ans: There might be a situation where you have already used that particular backup code. Then using another backup code for login. If all of the 5 are used then try to generate new backup codes.