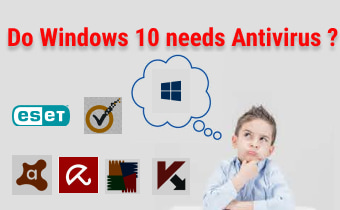 Windows is one of the most popular operating systems, and it is currently installed on almost all personal computers, in addition to having a significant presence in the business world. Even though Windows does not pay much attention to security, it remains the top priority on every system. Users used to be overly concerned about the vulnerability of their systems to a wide variety of cyberattacks and viruses; however, this is no longer the case.
Microsoft has not focused a lot of attention on developing its very own effective antivirus software. The majority of the work of securing the Windows system is done by antivirus software that is provided by a third party. A number of years ago, Microsoft was also one of the companies that focused a lot of attention and effort on developing their very own highly secure antivirus software. Windows Defender Antivirus is the topic that we are discussing here.
Nowadays Windows Defender protects your system from various flavors of malware and viruses. But saying so Some still use third-party antivirus software for protecting their system and some simply use Windows Defender Software according to the type of work they are doing on their system.
Note: In Windows 11, we do not have the term antivirus like Microsoft Defender Antivirus. For the same and some advanced tasks, a new inbuilt feature called Windows Security was developed for Windows 11. Windows Security is an upgraded built-in version of Windows Defender.
What is Windows Defender Antivirus?
Windows defender was released on October 24, 2006, as a free anti-spyware program for Windows XP and Windows Server 2003. This software was only designed to protect your system against spyware only. Later Windows Vista came with preinstalled windows defender and the same happens in Windows 7. But at that time windows systems used to have Microsoft Security Essentials, a kind of malware protector, used to suppress Windows Defenders. In Windows 8 and 8.1 Windows Defender is preinstalled with more upgrades with more antivirus-related features. Windows 10 also has this preinstalled.
Both Windows 10 and Windows Defender are Microsoft products and they understand their system in a better way. Today Defender does real-time protection against various forms of malware like viruses, spyware, and ransomware.
Some basic advantages of Windows Defender Antivirus over Third-Party Antivirus
Lightweight: Windows 10 is more lightweight than another third-party antivirus. Also, it takes fewer system resources and power than third-party antivirus.
Free of Cost: Windows Defender comes preinstalled in the Windows 10 operating system. Microsoft provides it free of cost and with no licensing issue. On other hand, third-party antivirus charges you.
Auto Updates Features: Without user interaction, Windows 10 system automatically updates new features and virus definitions through windows updates in the background quietly. You don't have to restart your computer.

Once set and Forget Features: Once properly configured, the user should not have to do anything with it.

User-Friendly and Clean UI: The UI of Defender is user-friendly. Its UI resembled close to windows applications and programs.
Microsoft Product: Windows 10 and Windows Defender both are Microsoft products and they understand their system in a better way and bugs and viruses can easily be caught.
No ads and banner: Another third-party antivirus may show ads and their own banner and may somehow try to do the conversion by showing new features and may say to use these features please upgrade your system.
Ransomeware Protection: Windows Defender comes with inbuilt ransomware protection. So, it blocks unauthorized access to files like pictures, documents, videos, music, favorite, and more.
Ransomeware is types of malware that generally encrypts files and prevent the user from accessing those file and even some can stop you from using your computer system. And Attacker force you to pay certain money to unlock and decrypt the files and system.
In windows, 10 version 1903, ransomware protection is turned off by default.
Windows Defender isn't the same windows defender which is before 4 - 5 years ago. It used to hang, takes more CPU, and show an unnecessary popup on startup but now it does not have that problem. 
Some disadvantages of Windows Defender Antivirus over Third-Party Antivirus
Scanning Speed: Virus Scanning Process in Windows Defender is slow as compared with other third-party antivirus. Especially scanning connected devices having large files.
Specialization: Windows Defender is not specialized software. It is not specific to malware protection, spyware protection, or virus protection. There are lots of third-party antiviruses which have a very specific task.
Virus Detection Ratio: The virus Detection Ratio in windows defender is less than other antivirus.
System Lag During Update: When there is an update in the system, then it will lag and slow down your system significantly.
Keep in mind: If your system is not connected to the internet, not connected to any plugin devices like CD, DVD, Pen Drive, etc then there is no chance of getting the system infected.
 When Windows Defender Antivirus is good for you?
Ans: If you are a general user, who uses the computer only for doing basic things like web surfing, watching youtube videos, typing. Then you can go with Windows Defender.
Using Windows Defender only for windows is Okay if:
You continually patch/update your system via windows update.

Configure your windows defender correctly

You are aware of your system.

You don't click and open  random links 

Downloading resources from official sites.

Do not go to adult sites, hacking sites, or fake news sites.

Read email from a known source only.
When third party Antivirus good for you?
Ans: If you are an advanced user who generally spends much of the time working on pirated tasks like downloading pirated software, downloading pirated movies, etc. In this case, it's better to go with advanced antivirus like Kaspersky.
Also, if you are too much worry about security and privacy can going with third-party antivirus will be the best option.
If you have a business and required security then instead of using windows defender and another freely available antivirus, use paid high quality paid version antivirus.
Also, go with specific software. If you want to do malware protection then go with antimalware software and if you want virus protection then better go with anti-virus software.
Now let's look difference between Antimalware and Antivirus
| | |
| --- | --- |
| Antimalware | Antivirus |
| Antimalware mainly works for protecting against malware. | Antivirus mainly works for protecting against virus |
| Eg. SpyHunter and Malwarebytes are antimalware | Eg. Norton, Kaspersky |
| Antimalware deals with new types of malware like zero-day attacks | Antivirus typically deals with well-established and older threats. |
| It can identify threats that have never existed before. | It can only identify the threats that already have their definition or already has before. |
Looking above we found that antimalware is better but actually we cannot say without looking at product performance. Also, antivirus is a more popular terminology than antimalware in the public from historical times. So, antivirus software has "antivirus" attached at the last of the name. But actually, they are found to be performing better than the antimalware program. 
Note that: When you install third-party antivirus then windows defender antivirus will become inactive. (source)
Windows Defender vs Other Antivirus Test
According to AV-Test, here is the list of Top antivirus according to production, performance, and usability with max point 6 and min 0. 
Protection: The protection test says how well the antivirus protects the system from malware.
Performance: The performance test says how well the antivirus performs while the system is in an ON state.
Usability: The usability test says how well a specific antivirus in a specific context can use software to achieve a defined goal effectively.
Here is the report of Windows 10: October 2020, we can clearly see that windows defender was also successful in getting a max point of 6 in production, performance, and usability. So, we can see windows defender / Microsoft defender also performs well as other antivirus like avast, ahnlab, avg, Avira, etc.
Enabling Windows Defender Antivirus Security Features:
With windows 10, basic antivirus protection features are enabled in windows defender but there are some other features that seem to be useful.
1) By Enabling Ransomware Protection in Windows Defender
2) Add Anti-Phishing Chrome Extension for protecting from phishing attacks and safe browsing.
3)Enable Enhanced Features like Network Protection and most of Exploit Guard (ASR) Protection of Windows Defender using Powershell.
Why do antivirus like Windows Defender, McAfee, Norton, etc required updates?
Ans: Antivirus will not act on that virus which to known to them. If a new virus is developed and your antivirus has not seen it before such a virus then the antivirus will not handle it. So, antivirus is necessary to always to the update so, in the update, new virus definition is already known to antivirus. And if the same virus attacks your system then the antivirus will easily catch those errors and the infected software is moving it to quarantine and sometimes directly removed from the system.
Should I turn on Windows Security in Windows 11?
It is strongly suggested that the Windows Security app not be disabled at any time. Your device's protection will be significantly reduced as a result, which increases the risk of it becoming infected with malware. Windows Security provides protection against software threats such as viruses, malware, and spyware across a wide range of environments, including email, apps, the cloud, and the web. This protection is ongoing, comprehensive, and real-time.
Is Windows 11 Windows security the same as Windows Defender?
Ans: Windows comes with its own built-in security system called Windows Security in Windows 11, which includes the antivirus software Microsoft Defender Antivirus.
In nutshell
This information comes from me and is based on my own personal experience. It may be of some assistance to you, but ultimately it is up to the user to determine which antivirus software works best with their particular system in conjunction with Windows Defender. Since the knowledge required to properly secure the system can only be gained through experience, it is in your best interest to try out both of the available products before settling on the one that best meets your requirements.