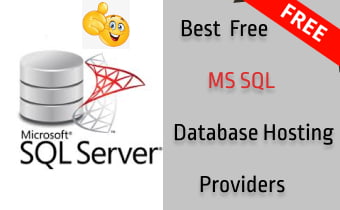 There are lots of free SQL databases from different vendors. Some of the most popular SQL databases used in the market are Postgresql, Oracle, MS SQL(SQL Server), SQLite, MySql, etc. You can get all these mention databases in your local machine and Suppose you want to host or wants to put your data live and then accessing those data from anywhere else requires SQL server database hosting. For this, you may have two choices according to your requirements.If you just want to test your data online then you can use free database hosting. And suppose you think your data privacy and security than its worth buying Database Server hosting.
In this article, I will talk about free SQL Server (MS SQL) Database hosting which you can use for educational purposes or just for testing.
Note: Put your data at your own risk.
1)Somee.com
Goto URL and type somee.com and then sign up with any mailing addresses and then after they verify your mail then you can use MySQL server for free. For free categories then have provided the following specification.
| | |
| --- | --- |
| Specification | Description |
| Auto Backup | ✅ |
| MS SQL database size | 15 MB |
| MS SQL log size | 20 MB |
| MS SQL Full-text search | ✅ |
| Database auto backup | ✅ |
| Backup storage size | 40 MB |
| FTP access to backup | ✅ |
| Database auto backup every | ✅ |
| Database auto backup every | 24 hours |
| Keep database auto backups for | 24 hours |
| MS SQL login accounts | 1 |
| MS SQL 2012 Express | ✅ |
| MS SQL 2014 Express | ✅ |
| MS SQL 2016 Express | ✅ |
| MS SQL 2019 Express | ✅ |
2)GearHost
Within a few minutes, you could have your own MSSQL hosting up and running.First, you have to sign up with any mailing address and after they verified your mail then you can log in into gear host the main page. Your dashboard page looks like this:
It provides you with 10 MB space lifetime hosting, which is enough for testing.
3. SmarterAsp.Net Hosting
This hosting provider provides hosting free for 2 months without any credit card. If you decide to use further then will ask you for credit card Details.
| | |
| --- | --- |
| Specification | Size Info |
| MS SQL Database | 1 GB |
| MS SQL Log Size | 1 GB |
| Backup, Restore, Attach | ✅ |
Dashboard of smarterasp.net hosting looks like this: