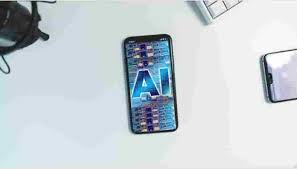 Machine learning, deep learning, and artificial intelligence are all emerging topics right now. In today's aging society, artificial intelligence has many different applications and is used in many different sectors from health, education, robotics, gaming, entertainment to finance. To experience the application of these advanced topics we should not have to wait for advanced and complex hardware, we can enjoy the power of AI with just simple smartphone devices. There are many AI-powered apps that do AI-related things which are making our life much enjoyable and easier.
let's look at some of the AI-related apps that you can install on your smartphone and experience it yourself.
Table of Contents
Artificial Intelligence Apps
Faceapp - AI Face Editor

This app uses artificial intelligence-based neural networks to create extremely realistic transformations of faces. This app is developed by the Russian company Wireless Lab and is available for both Android (from February 2017 ) and ios(from January 2017). The app can make you smile, look younger, look older or alter gender, etc. This app is crazily viral with my family and friends.
Let us look at some of the actions of face app in some celebrities.
Replika: My AI Friend
Replika is a virtual friend powered by Artificial Intelligence. It is the #1 chatbot companion where you will have a virtual friend with no judgment and drama. If you are in depression and are in some anxiety then just start chatting with AI friends and express your though then your AI friends will make you feel good with no judgment and this will helps to improve communication in English and grow and have fun together. You will feel like someone real person is on the behind and talking with you. But actually, it's not true. The more you talk and the more accurate bond you can create with AI.
WOMBO
WOMBO is an image manipulation app in which when you provide a selfie, pick a song then it will provide you a deepfake of lip-synced video. This app works perfectly with any photo which has a face facing straight to the camera. It was launched in February 2021 and has gained large popularity at a rapid pace.
Cortana
Cortana is Microsoft developed smart digital personal assistant apps. Initially, it is available only for Windows Phone but nowadays it is available for android phones as well. It helps us to easily track important files, images, videos, etc from our devices. Cortana will assist you by sending you updates, making notes and lists, taking care of tasks, and helping you plan your schedule. Cortana can also help you make calls and send a text. Also, Cortana can give you contact-based reminders, and you can even attach a photo to your reminders.
Like other personal assistants, Cortana can find all kinds of information on any topic, provide you with updates on weather and traffic, etc.
ELSA
ELSA is a smart AI app that allows individuals to improve their pronunciation. It will identify your errors and guide you to speak American English. This will helps you improving your speaking skills to prepare for the TOEFL and IELTS.
Google Lens
Google Lens Apps is developed by Google and uses Image Recognition Technology to provide relevant information on objects it detects using a neural network-based visual analysis. Copy lines and paragraphs of the word written in your books, Detects Flowers, Painting, animal and any object, Add Contacts, Find companies and businesses by scanning visiting cards.,Scan sites URLs from your PC to Open at sites in Mobile.
Leia
Leia App is developed by Vybe Software LLC for both Android as well for IOS. It allows us to build beautiful, unique, and creative websites without knowing any programming languages. And no two sites will never exactly match. It is said that Leia is capable of producing over 1 with 303 zeros unique features sets. It also provides a vast collection of DIY designs for the layout of websites. It has lots of cookie-cutter templates, you can also add live chat to your websites.
Lyra
Lyra is also one of the best AI personal assistants created by Artificial Solutions. It is available for both Android and iOS.Lyra apps can play youtube videos, tell us jokes, instantly translate words and phrases, open maps and gives us direction, find nearby restaurants, searches your contacts, set alarms, and reminders, makes recommendations, answer user's queries asked on a variety of topics. saves remainder and notes etc.
Jarvis Artificial Intelligent 
Jarvis is an AI app that assists you with your voice with its important and cool features anywhere anytime. Some of the important features which you can activate with voice are as follows.
Make Calls.

Set Alarm

Open Wifi, Bluetooth

Battery full charge alert, Battery Level Status

Can set own commands and their response.

Play Music

Date and Time Information

Open Apps.
Databot 
Databot is personal assistant AI apps that assist you with your voice and requests questions about the topic you are interested in. Apps will respond back to you with images, search text, and multimedia presentations. You can also chat with your AI friend. It is available in various languages like English, French, Spanish, German, Russian, Japanese, Polish, Chinese, and many more.
Picai - Smart AI Camera
Picai is a free Smart AI Camera with a filter recommendation camera for picture-perfect photos and selfies. It automatically detects scenes of your photos and does analysis on it with patented cutting-edge AI deep learning technology. It has film effects, light leaks, dust, and scratches with a beautiful shot with Picai.