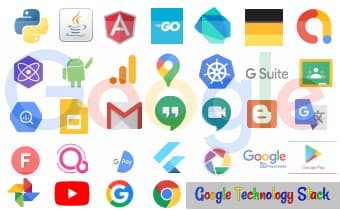 Google LLC is one of the world's leading multinational technology companies, specializing in search engines, online advertising, software development, cloud computing, and hardware manufacturing. Google, along with Amazon, Apple, and Microsoft, is one of the top four technology companies. In 1998, two PhD students, Larry Page and Sergey Brin founded Google at Stanford University in California. Let's take a look at the technology stack that Google used to build its system and product.
The Google technology stack has been divided into the following groups:
Let's go into each of them in deep.
1 Developer Stack
Developers in google use the following technologies and tools.
Python
Python is a high-level object-oriented programming language with dynamic typing. It has extensive cross-platform support and large standard libraries. It is used in machine learning, deep learning, IoT, and other fields related to artificial intelligence. Python's keyword is the English word, which makes the code very readable.
Want to learn python: visit here.
Java 
Java is a high-level, static object-oriented programming language. Object-oriented, platform-independent, simple, secure, robust, multithreaded (can perform multiple tasks concurrently), and high performance are some of Java's key features (with the use of the JTE compiler).
Want to learn Java: visit here.
Angular JS
AngularJS is a JavaScript-based open-source front-end web framework that is primarily maintained by Google and the Angular community. Angular Js's key features include the MVC framework, POJO Model, Google Active Community, routing, two-way binding, and so on.
Want to learn Angular Js: visit here.
Dart
Dart is a programming language designed for the client-side development of cross-platform applications. It is used in the development of mobile, desktop, server, and web applications. Data is a class-based, object-oriented, garbage-collected language having C-like syntax.
Want to learn Dart: visit here.
Golang
Material Design
C and C++
Preact
Android SDK
LevelDB 
2 DevOps and IT Stack
Apache Tomcat 
Kubernetes
Kubernetes project focuses on building a robust platform for running thousands of containers in a production-ready environment. It is an open-source platform designed by Google.
Jenkins
Jenkins is one of the leading open source Continuous Integration(CI) tools used to build and test projects continuously making it easier to integrate modifications and changes to the system.
Android Studio
Bazel
SeeSaw
EarlGrey
Business Tools
Gmail
G suite
Google Meet
Google hangout
Utilities
Google Analytics
App Annie is an analytics platform which provides tools for app analytics data.
Google Maps
Maps.google.com is a web-based mapping service provided by Google. Aerial and satellite imagery, street maps, 360° interactive panoramic views of streets, real-time traffic conditions, and route planning for travel by foot, vehicle, bike, air (in beta), and public transportation are all available in Google Maps