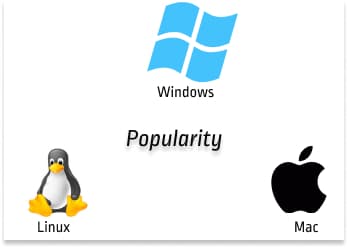 The market offers a wide range of operating systems. Windows, Mac, and Linux are some of the most popular operating systems. Before diving in, learn about the popularity of these operating systems. Let's take a quick look at this operating system.👊👊👊
Windows OS
Since the mid-1980s, Microsoft has been developing a series of operating systems known as Windows. It comes in a variety of forms. It is a proprietary graphical operating system that only the company can modify. It has dominated the desktop market since 1995.
According to Statcounter of Oct. 2021, Windows 10 is the most popular windows OS with about 75.18% market share in Desktop Operating System Worldwide. It has a wealth of tools and features etc.
The fact that most general-purpose PCs come with Windows OS pre-installed is one of the reasons why they are the most popular.
macOS
Apple's macOS (formerly OS X) operating system is a series of operating systems. The majority of Macintosh computers come with macOS preinstalled. It is not as popular as Windows, and one of the reasons for this is that the Mac is more expensive.
It is marketed by Apple Inc, since 2001 AD.
Linux
Linux is a collection of open-source, free operating systems that can be modified and distributed by anyone anywhere in the world. It is a highly customizable operating system. It is primarily used in server farms.
It was created by Linus Torvald and it was first released in 1991 AD.
Why are windows Os is popular over other available Operating systems like Linux and Mac?
In this article, I want to talk about why windows Os is popular than other available Operating systems like Linux and Mac in the desktop environment.
Why Windows OS is Popular ?
Some of the reasons are as follows:
1

Windows Emerged Historical with GUI Support
Despite the fact that GUI support was not initially developed for Windows OS. However, when Microsoft included a graphical user interface (GUI) in its operating system, its popularity skyrocketed. This increases Windows users because it allows them to work without having to worry about commands. And other operating systems are struggling to provide GUI support as quickly as Microsoft did. As a result, it was widely adopted at the time.
Windows has had a large market share in operating systems since its inception, with Windows 3.11 having a market share of more than 90% in 1994 AD.
Also in current time has the highest market share in desktop OS(source).
| | |
| --- | --- |
| OS | Market Share in % |
| Windows  | 75.18  |
| Mac OS | 15.89  |
| Linux  | 2.15 |
| Chrome OS | 2.54 |
| Unknown | 4.23 |
It has a near-monopoly on desktop and laptop in the computer market.
2

User-Friendly OS
No other operating system is as simple to use as Microsoft Windows. Nobody wants to type a bunch of commands to do something that can be done with a few mouse clicks. As a result, the user interface of Windows is superior to that of other open-source operating systems. Windows is designed in such a way that anyone can learn how to use it.
Windows allows people to do a lot of things without much difficulty most of the time. If we use Windows, Linux, or Mac, we find that they are not user-friendly.
3

Largely Adopted Software
People are already using MS OFFICE and Adobe products and games that only work on Windows. As a result, the next time a user tries to use MAC or Linux, they are disappointed by the lack of such features, and they return to Windows. In most cases, this occurs.
Linux may not have applications to be used or used by the consumer.
4

Grew Up with Windows
Most people grew up using Windows OS on their PCs and are comfortable with it.
5

Productivity
The majority of businesses use Windows OS to carry out their daily operations. Making reports, PowerPoint presentations, and graphics with Windows software is simpler. And software such as Microsoft Word, Microsoft Excel, Microsoft PowerPoint, Adobe products, and many others assist them. This software alternative is available in both MAC and Linux, but it lacks many of the features found in Windows software.
Linux has LibreOffice but is not much popular as ms word.
Linux has a gimp as an alternative to photoshop both not as good as photoshop.
In my view, this software is just a polished version of windows' popular software.
6

Large Microsoft Official Support Base
If you used a paid commercial version of Windows, Microsoft will provide you with a lot of active support. Also, large corporations do not want to waste time troubleshooting issues; instead, they contact Microsoft for assistance, and they are available at all times to assist businesses; thus, large corporations use Windows as well.
For paid users, Windows has better support for both current and legacy Windows.
7

Preinstalled OS
When you go to the market to buy a laptop or desktop, they will tell you that the Windows operating system is preinstalled and genuine. Preinstalled Windows denotes that the operating system has been fully installed, licensed, and activated with Microsoft. As a result, in the majority of cases, Windows 10 will come preinstalled on the new system.
Windows OS marketing and advertising are at an all-time high.
8

Driver and Peripherical Compatibility
Windows has better driver support from manufacturers than Linux and MAC. Furthermore, some vendors do not develop a driver for Linux, and when an open community does develop a driver, it may not be properly compatible.
So, in desktop and laptop environments, Windows gets any new drivers first, then macOS and then Linux.
Eg. Sometimes laptop and desktop wifi did work with Linux because the manufacturer may not have created it for Linux. This happens once in my case.
Even today Linux
is 
not 
very 
successful 
at 
supporting 
devices 
such 
as 
printers 
and 
scanners.
Noobie and even expert geeks will have much more confidence in buying a video card, printer, and dual monitor setup with windows, and many of the manufacturers suggest the same.
9

Windows largely used in school and training institution
Windows OS is used in many schools and training institutes, so if anyone wants to learn anything, they will be taught in Windows OS. In order to obtain a Linux expert or a Mac expert, they must pay a high salary to the instructor; therefore, they use Windows OS, which is familiar to almost everyone.
10

Large Windows Software Developer
Most developers develop software for windows making windows user life much much easier.
11

AutoCAD and Graphics Things
If you do 3D graphics works then most of the industry-standard software is windows base.
12

Pirated Windows is Available Everywhere 
You may get pirated windows OS on the internet and can be installed on any computer system easily. However, OSX can only be installed on the MAC system, and have to pay for it.
13

Large Windows Geeks and Enthusiast Support
Because a large number of people use Windows, the problem can be resolved quickly and easily. There are also numerous articles written by tech geeky to solve the problem for Windows.
14

Games
Also, Windows is the best for gamers as well. And has lots and lots of amazing games for Windows OS support.
15

Windows 10 Update
Windows 10 Updates are automatic, once set in automatic mode. You do not need external third-party driver updating software
as windows have built-in for it. Windows generally apply a large number of updates at one go but Linux updates come frequently because they provide updates as soon as it is available.
For learning emerging technology in the data center. click here.
16

Windows 11 Release
With the release of the Windows 11 operating system, the popularity of the Windows operating system has already skyrocketed. Windows 11 has made significant improvements to its graphical user interface, and it now has the same look and feel as macOS. Another important feature that Windows 11 supports is the ability to run Android applications, as well as the integration of Microsoft Teams.
17

Large number of OEM vendors
Every company wants to make a profit. OEM distributors purchase Windows OS in bulk at a low cost, benefiting both Microsoft and OEM distributors, and will target large groups of users through wholesalers and retailers.
18

 Vacancy
Most businesses use the Windows operating system, which necessitates the hiring of personnel to run the business. So, there are a lot of job openings, and it is written in the requirements that applicants should know how to use Office Packages and soon.
19

 Installation
OSX cannot be installed in every system and only support for Mac System. Noobie finds it difficult installing Linux OS and in the early days there is no GUI support for installation. For many years windows have the same steps for installation in every version of windows which makes it easier to install every version of windows even by noobie guys.
Finally,
Neither I am in support of any of these OS, each has helped in solving people's tasks in various ways. If you find any of these points irrelevant then please feel free to comment below👇👇👇.
Similar Article: