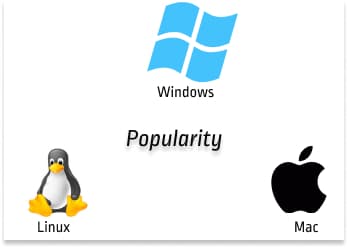 There is a huge variety of OS available in the market. Some of the most used Operating systems are Windows, Mac, and Linux.Before deep-diving knowing about the popularity of these Operating Systems. Let's talk about this Operating System in Short.

1) Windows OS
Windows is a series of OS developed by Microsoft since the mid-1980s. It has many different versions. It is a proprietary graphical operating system that can only modify by the company itself. Its ruling desktop market from 1995.
According to Statcounter, Windows 10 is the most popular windows OS with about 73.05 % market share. It has a wealth of tools and features etc.
Most of the general-purpose PC comes with Windows OS pre-installed which is one the reason for making it most popular.
macOS(formerly OS X) is a series of Operating systems created by Apple. Most of the Macintosh Computer comes with MacOs preinstalled. It is not much popular as Windows and one of the reasons is mac is more expensive.
It is marketed by Apple Inc, since 2001 AD.
It is a group of open-source, free OS, which can be modified, and distributed by anyone worldwide. It is a highly customizable Operating System. It is mainly used in server farms.
It was created by Linus Torvald and it was the first released in 1991 AD.
In this article, I want to talk about why windows Os is popular than other available Operating systems like Linux and Mac in the desktop environment.
Reason are as follows: