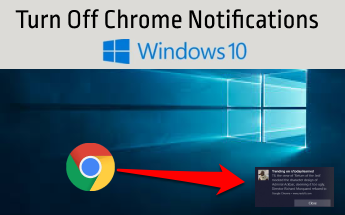 Table of Content
Chrome Notification is one of the useful features of Google Chrome and is very useful if used wisely. It sends notifications from the favorite sites that you have subscribed and after subscribed you will see a notification on the right bottom corner of the monitor screen if new content is added to the website. If you subscribe to many websites then you may get many notifications popup which may irritate you and if you like to stop those then you are in right place.
I am getting this notification after subscribing to neilpatel.com websites.
How does Chrome Notification work?
Often when you browse websites on Google Chrome, you are prompted to allow or disallow notifications by a particular website. You can see that popup as shown below. Especially on the left corner or middle of the web content.
fig. Push Notification from DigitalTrend site on google chrome
If you click on Allow, then that particular site will start notifying you about usually new content added recently.
If you click on Block then the site won't be able to prompt you again and will not show notifications.
1

We call this notification Chrome push notifications.
2

Even if you close the chrome browser, chrome can still send notifications because it runs in the background.
3

Notification that you receive from chrome is different from Windows Notifications. These are popups from the websites and chrome runs this.
4

You will not get a allow /block notification popup when you are using chrome incognito mode.
5

Google Chrome browser has the capacity to penalize sites that abuse web push notifications.
6

If website has push notifications features then only chrome will show push notification on top right corner.
Why use Chrome Web Notifications?
Web Notifications seem to be useful :
1 To provide important and timely business updates.
2 To engage users with relevant content if they're not on your website.
So, it seems to be useful for getting messaging and email notifications,eCommerce notifications, delivery services notifications, Taxi and Ride-Sharing Notifications, calenders notifications.
When Chrome Web Notifications is Bad?
Web Notifications seem to be bad for users if the websites use notifications for unwanted brand promotions and if the content does not meet user preference.
How to Disable / Disallow / Block Chrome Notifications?
Regrettably, notifications are one of the top user complaints since many websites request permission on first visits instead of showing notifications after certain interactions with websites. So, sometimes it's worth disabling it. Follow the below steps to disable Chrome Notifications in chrome browser.
1 First Open Chrome Browser
2 Click on
which is located on Top Right Corner.
3 Click on Settings.

4 Scroll the page, and find the "Privacy and Security" section and click on "Site Settings"

5 Under Permissions section, Click Notifications

Here you will see two sections:
Block section: Site whose notification is already off
Allow Section: Site that can send push notification
Under Allow Section, remove the site whose notification you do not want to see.
For example, here I am removing dekhapadhi.com from giving notifications. So, click on 3 dots and then
Either click on "Block" if you want to disable/turn off notification from that site, so that you can enable later by click on "Edit"
Or click on "Remove" to remove from the list and disable the notifications.
Method 2: Using Chrome Extension
1) Block Chrome Notifications
It disables all chrome notifications in just one click.No need to login and does not shows its ads.
Method 3: Using Software
If you already have the below-listed software, then you can disable it using that software.
1) Adware Cleaner
What to do if you want back those chrome notifications back?
This may happen, suppose you have suddenly disabled all the notifications and you want to enable back particular websites or all websites then follow the below steps:
1 First Open Chrome Browser
2 Click on
which is located on Top Right Corner.
3 Click on Settings.

4 Scroll the page, and find the "Privacy and Security" section and click on "Site Settings"

5 Under the Permissions section, click Notifications.
Under the block section of the page, you will get all notifications blocked websites list. Click on
and click on "Allow"
Also note that:
Nowadays criminals are using it illegally. Criminals are trying to get your data and can do monetary loss via push notifications in various browsers. They ask you to allow notifications, otherwise content will not be displayed. When you deny then again same notifications keep coming. And when click on Allow, then nothing gets displayed. So, beware of those viruses, scams, phishing, social engineering thread. One of the popular such viruses is the "Allow Website Notifications" virus
This doesn't happen always and if you find those symptoms can don't click on such a popup?
Disable All Chrome Notification At Once?
Disabling all notifications at once seems to be useful if you feel irritates with those notifications.It will guide this with the below steps.
1 Open Chrome Browser.
2 Click on
which is located on Top Right Corner.
3 Then click on Settings.
4 Then go to Site Settings >> Notifications.
5 Up at the top, turn on/off all the information at once by pressing the toggle button as shown below.