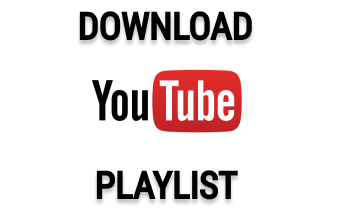 Download Youtube Playlist
Youtube is one of many video-sharing websites where you may upload, watch, rate, share, comment, and subscribe to your favorite channels. People like you and me commonly utilize YouTube to find video content because it is one of the most popular sites. When you come across a complete playlist of video songs and movies that you enjoy while searching, you may want to download them all so you can watch them later.
There are numerous tools available on the internet that only provide single video downloading methods; however, in this article, I will demonstrate how to download an entire YouTube playlist using my preferred method. You can download all of the playlists, which we will walk you through step by step in this article.
Youtube downloading software is a program that allows you to manage your YouTube downloads, save downloads, schedule downloads, resume downloads, and many other functions.
Advantage of Downloading Youtube video Playlist
Bulk Download Software will not intervene in the middle of the bulk download to start downloading each video and will be automated after you start the bulk download.

If a user forgets the playlist URL, he or she may not be able to get the same video again. All of the videos will be downloaded to a folder using the technique below, and you will be able to watch them offline at any time.

Viewing offline takes little loading time.

No need internet connection after you have downloaded it.
Is it legal to download youtube Videos?
Ans: It is against youtube terms and conditions. So, it's better to take permission from the copyright holder's video before doing it.
Various Method of Downloading Youtube Playlist
1

 Using byclickdownloader software
By far the best YouTube downloading software on my list is ByClick Downloader. By using byclickdownloader, you may download videos from YouTube playlists in 720p, 1080p, 4K, and 8K resolutions. You can also download movies from popular sites such as Dailymotion, Vimeo, and Facebook. It supports audio qualities of 24kbps, 36kbps, 48kbps, 96kbps, 128kbps, 256kbps, and 320kbps, which is more than enough for YouTube videos.
It supports a variety of video and audio formats, including MP3, MP4, AVI, FLV, WMV, WEBM, 3GP, and WAV.
Other unique features include:
Auto-detect clipboard

Different browsers, such as Firefox, Internet Explorer, and Chrome, automatically detect videos.

Multiple Download facilities

Download the entire playlist in one click.

Download Subtitles from YouTube

Manually search for and download videos in software.

Capabilities of a proxy

Always up to date.
After you run your application and when you open any youtube playlist then automatically byclickdownloader software detects and asks you to start download as shown below.
Then you will get all the video playlists, then click on M4A format under "Choose Format" then click on Download. This will download all the videos from the playlist.
Alternatively,
Get any video from the playlist

Paste it in ByClick Text Field

Click on Download 
After that, a popup will appear just click on Download playlist
2

Using YouTube to MP3 Converter 
This is a desktop application so you must download it first.
Click here to download

After that go to youtube and select your favorite playlist URL and then copy the URL.
📓 Note: Url must have a "playlist" term.
Open YouTube to MP3 Converter and click on "Paste Link".Then paste the URL. After that, the application starts fetching all the videos of the playlist.
If you want to download all the videos from the list click on the download icon shown at the top right corner.
 3

Using FreeDownload Manager and Youtube MultiDownloader Online Website
Downloading directly from a YouTube playlist URL is not possible with FreeDownload Manager (FDM). We use the YouTube MultiDownloader Online service to incorporate all of the playlist's video URLs.
So, let's start
steps:
2 a)Go to youtube and select your favorite playlist URL and then copy the URL.
2 b)Then visit https://youtubemultidownloader.net/playlists.html. Then go to the playlist tab from the menu
2 c) Once that's done, paste the YouTube link in the  Playlist link search bar on the YouTube Playlist website. It will automatically show all the videos from the playlist.
2 d) Then just click on the link and copy all the links.
2 e) Now, go to FDM, and in the menu select "copy from the clipboard".Then FDM will automatically detect it and shows all the videos of the playlist.
2 f) Then select the required path to save videos and then click on download. Then will start to download all the video of the playlist.
4

Using Loader.io
Using loader.io you can download videos only, audio only, or both in bulk and will get downloaded as a .zip file.
The steps are as follows:
Go to youtube select your favorite playlist URL and then copy the URL.
Then visit loader.to sites

Paste the URL in the Url Search bar

Next step, select a video in various formats like mp4 up to 1440 p, WebM up to 8K video, or various other formats

Then set "Playlist Start" and "Playlist End" which define ranges of video to download.

Next click on the download

Then loader will load up to 100% and click on the final download button

  
5

Using itubego software
MP4, MOV, WMV, AVI, FLV, MKV, HEVC MP4, HEVC MKV, iPhone/iPod, iPad, and more formats are supported by the itubego software. It's compatible with PCs, Macs, and Android phones.
itubego Software helps you to download youtube video playlist of 240p,360p,480p,720p,1080p,2k,4K,8K etc with simple steps.
Download iTubeGo. link
Run the iTubeGo application and click on "Paste URL" as shown below.
Once you copy the playlist URL then the playlist URL is immediately detected by iTubeGo YouTube Downloader, which then displays all of the videos available for download. You can rename the playlist numerically or skip the video's repeated download. So you can easily organize your playlist files more effectively.
After that, a popup will appear just click on Download playlist
On the next screen, it will display all the videos under playlist, there select video and audio quality and then click on Download
6

  Using Videoder 
It is Indian-made software for downloading videos and music from over 1000 sites including youtube.
7

Using Any Video Converter
It is also one of the best free YouTube downloaders for videos, music, and playlists. You can use this free YouTube downloader to download entire YouTube playlists to your computer. It downloads the YouTube playlist in lossless MKV format but can alter the format while saving. You can save it in around 200 formats including MP4, AVI, MOV, OGG, etc.
It is available for windows and mac.
8

  Using JDownloader
JDownloader is a useful tool that helps you to download videos from various platforms including youtube. For downloading the playlist first the application will identify the URL and prompt you whether or not to proceed. Then, on the right-hand side, you can choose which sorts of media you want to download, then select download folders, group files, and other settings in the middle. When you're finished, right-click to begin the downloading. The program should then go to the download tab and finish the downloading jobs.

It is available for Windows, Linux, and Mac
9

SnapDownloader
Snapdownloader is a user-friendly desktop app that helps you to download a single youtube video or complete a youtube playlist. You can download videos up to 8k resolutions. You can download and convert your video to mp4,avi, WMA, aac mp3, etc. It is available for windows as well as macOS.
Step:
Copy youtube playlist URL from browser URL

Open Snapdownloader and paste the link. And then click on "Download Playlist" from the popup.
Check on "Select All" to download all the videos and click on "Download"


otherwise, check on the desired videos and click on download.
Now Snapdownloader will begin to download
10 VidJuice
VidJuice is a video download software available for
Windows OS: Compatible with Windows 10/8.1/8/7/Vista/XP 

Mac OS: Compatible with 11 (macOS Big Sur), 10.15 (macOS Catalina), 10.14 (macOS Mojave), Mac OS X 10.13 (High Sierra), 10.12(macOS Sierra), 10.11(El Capitan), 10.10 (Yosemite)
vidJuice provides you a facility to select download speeds ranging from unlimited, 8MB/s to 200KB/s before you start to download. You can download in various qualities ranging from 720p to 8K (4320). It also provides facilities to download subtitles. Also supports download in lots of formats. You can set a maximum number of downloading tasks from 1 to 6.Can Burn the Subtitle/CC to the output video
You can only perform one task with the software for trial purposes. If you buy the plan then you can enjoy it. If you are familiar with other bulk downloaders like itubego then you can easily use them.
VideoProc is the best free video downloader for Windows and Mac and can download videos up to 8k video resolutions guaranteeing faster speed. You can extract audio from video and save it in MP3, WAV, AVI, FLV, MOV, etc. You can Convert, edit and resize video as well.
Lightweight youtube playlist downloader which can download up to 8k videos up to 60 kbps.
FAQ:
How to download a youtube playlist on Android?
Yes, you can download a youtube playlist on your Android phone for offline view easily with the help of the following tools.
Note that this application may not be available on the play store because these apps are against google policy so you may have to search on third-party sources.
How to download mp3 from the youtube playlist?
Ans: There is one software called Freemake which helps you to download mp3 from youtube playlist videos. You can convert 500 videos to mp3 at a time. It supports  Full HD & 320 kbps quality.