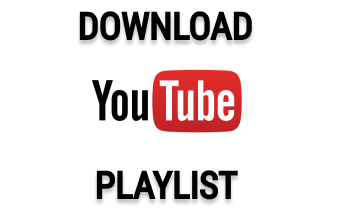 Table of Content
Download Youtube Playlist
Youtube is one of the large variety of online video sharing platform which allows you to upload, view, rate, share, comments, and subscribe to the channel. Being one of the biggest channels, a person like you and me always likes to search video related content directly on youtube. Sometimes while searching you have got a full playlist of video songs which you are interested in then you like to download all of them so that you want to see them offline. There are various types of tool available on the internet which only provides single video downloading methods, here I will provide my best way of downloading whole youtube playlist. You can download all playlists which we will explain step by step in this article.
Advantage of Downloading a youtube video or entire Playlist 
Once you start the bulk download, they will not intervene user in middle to start download each video and will be automated

User may not get the video same playlist again if he/she has forgotten the playlist URL.So, using the below method, all the videos will get download to a folder and then you can watch them offline at any time.

Viewing offline takes little loading time.

No need internet connection after you have downloaded
Is it legal to download youtube Videos?
It is against youtube terms and conditions. So, it's better to take permission from the copyright holder's video before doing it.
Various Method of Downloading Youtube Playlist
1) Using YouTube to MP3 Converter 
This is a desktop application so you must download it first.
Click here to download

After that go to youtube and select your favorite playlist URL and then copy the URL.
📓 Note: Url must have a "playlist" term.
Open YouTube to MP3 Converter and click on "Paste Link".Then paste the URL. After that, the application starts fetching all the video of the playlist.
If you want to download all the videos from the list click on the download icon shown at the top right corner.
2)Using FreeDownload Manager and Youtube MultiDownloader Online
FreeDownload Manager(FDM) does not allow to download directly from the youtube playlist URL. To include all the video links of the playlist we use the youtube MultiDownloader Online website.
So, let's start
steps:
2 a)Go to youtube and select your favorite playlist URL and then copy the URL.
2 b)Then visit https://youtubemultidownloader.net/playlists.html. Then go to the playlist tab from the menu
2 c) Once that's done, paste the YouTube link in the  Playlist link search bar on the YouTube Playlist website. It will automatically show all the videos from the playlist.
2 d) Then just click on the link and copy all the links.
2 e) Now, goto FDM, and in the menu select "copy from the clipboard".Then FDM will automatically detect it and shows all the videos of the playlist.
2 f) Then select the required path to save videos and then click on download. Then will start to download all the video of the playlist.
3) Using Loader.io
Using loader.io you can download videos only, audio only, or both in bulk and will get downloaded as a .zip file.
Steps are as follows:
Go to youtube and select your favorite playlist URL and then copy the URL.
Then visit loader.to sites

Paste the URL in the Url Search bar

Next step, select a video in various format like mp4 up to 1440 p, WebM up to 8K video, or various other formats

Then set "Playlist Start" and "Playlist End" which defines ranges of video to download.

Next click on the download

Then loader will load up to 100% and click on the final download button

  
4) Using itubego software