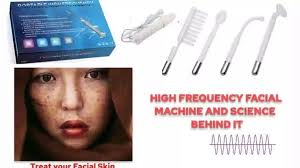 In this busy society, we don't have much time to take care of our bodies and faces. We only have little time for leisure. Pressure and stress work like a slow poison and you may face problem of aging at an early age. To stay healthy mentally and physically we can do exercise and meditation, take enough rest and sleep, take healthy food, take enough water, limit the use of TV and computer, meet friends and relatives, etc.

Due to this busy environment, our faces are also becoming dull and rough, to make healthy facial skin we do not have to go anywhere else, we can use a high-frequency facial machine at our home and takes considerably no time using it. This machine can be used for various purposes. It is used for the removal of persistent acne, shrinks open pores, eliminates or minimizes the development of thin lines and wrinkles, smooth puffy eyes fade dark circles of the eye and even revitalize scalp condition and nourish hair follicles to improve hair growth.
Working Principle 

 

This High-frequency facial machines has clear tempered glass electrodes and comes in various shapes and sizes for targeting various part of faces and bodies. When a small amount of current is passed to the electrode, then high vibration frequency is produced and this frequency is from 100,000–25,000,000 + Hertz (cycles /second). Also, the gas (either neon or argon, which is non-harmful gas) present in the electrodes vibrates and moves back and forth as a result produced a glow and buzzing noise. That glow is either violet (if neon gas is used ) or orange ( if argon gas is used) . When these electrodes are applied on the skin then it generates the oxygen that creates an anti-bacterial effect and pushes toxin out from the body.
Shape and Size of Glass Tube
This high-frequency electrode comes with various shapes and size and each of them is used in the intended treatment area of the body.
| | |
| --- | --- |
| Shapes | Part of the body |
| Mushroom Tube |  Forehead, Neck, Chest, Back, Cheeks |
| Curve Tube / Bend Tube | Nasal Groove Site |
| Comb Tube | Hair and scalp |
| Spoon Tube / Tongue Tube | Cheeks, Forehead, Neck, Scalp , under the nose and lips |

Much effectively works in facial areas like nose wrinkles, accordion line, vertical lip lines, jawline, double chin, worry lines, frown lines, droopy eyebrows, crows feet, under-eye bags, marionette lines, chin wrinkles, neck wrinkles, etc.
Benefits of High-Frequency Facial Machine Treatment
- Improves and clears acne.
- Shrinks open pores.
- Eliminates or minimizes the development of thin lines and wrinkles.
- Reduces eye puffiness and dark eye circles.
- Improvement of cellulite appearance.
- Promote healthy hair growth.
- Sanitize and ill bacteria.
- Accelerate blood circulation in the facial area.
Choosing Criteria of High-Frequency Facial Machine
Choose the machine with a relatively low wattage level of under 10watts with a high oscillation rating of over 100.000 Hz.
Look these Basic Technical Criteria while buying:
- Material: ABS, Glass (high-frequency machine)
- Voltage: 100-240V, US Plug
- Frequency: 50-60HZ
- Power: 10W   
Don't take the machine which operates on more than 10 watts because it may not produce the same rate of electrical current output and may cause overheating and damage the internal parts of the machine.
Buy from: Amazon
coming soon.