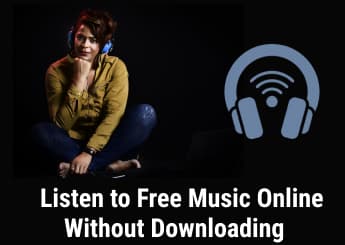 Music is one of the powerful things and is an important aspect of life. People used music for refreshment and relaxation. Some like to listen to music in silent peace moods and some while doing their works. There are many sites offering music among them some are free and some charged a certain fee. In this article, I will give you the best list of websites that are free to listen to and does not required to download.
Free Music Online Source
These are free music online sources that you can listen to without downloading them.
1. SoundCloud
SoundCloud is one of my best audio platform which allows users to upload, share, and promote their audio. And once those contents are made public, it is available to anyone who visits SoundCloud websites and apps. It was founded in 2007 and working efficiently and they claim it to be the world's largest open audio platform.
SoundCloud has user-generated content enables which helps us to sort out the music by artists so that we can easily hear songs, music, podcasts from any independent artists and unsigned band.SoundCloud is the best choice if you are an independent artist who loves sharing audio content or want to discover unique songs and music from many independent creators.
SoundCloud Audio supports various format like MP3.Mp2,WMA,WAV,AIFF,AAC,AMR etc.And also available for various platforms like Websites, Android, iOS, Windows 10, Xbox One, Sonos, Google Home(coming soon).
SoundCloud is suitable for artists who release original singles and want to measure their results and have a big audience.

2. Spotify
Spotify is an audio streaming platform mainly focused on mainstream music launched in October 2008. It has a killer interface and everyone can easily use it. It runs on both mobile and desktop environments. It can communicate with streamers, Smart TV, Game Console, Sound System as well. It is good for listening to high-quality music instead of sharing our own tracks.
Spotify comes with a number of carefully chosen and thoughtfully organized playlists, categorized according to popularity, genre, emotion, mood, and others. It helps you to listen to playlists of your favorite genre and collects songs of the same genre. You can delete them if you do not want them.
3. Deezer
Deezer Free is the free version from Deezer. Deezer has a user-friendly UI. It is ad-supported, has shuffle play features, does better personalization recommendations based on genres and artists you have chosen at first, and from likes and dislikes done in the music. In the free version, the sound quality is 128 kbps. Easily supported in Android, IOS, game console system, TV, home audio, websites, computer desktop apps, Cars, etc.
It has a large variation of music as it is available in 180 countries(at present). It has Facebook integration so that you can easily share lyrics and favorite artists with friends and family.
4. Pandora
Pandora uses a way of discovering new music that fits your taste. Pandora uses a radio station service that does not allow users to select the specific songs they want to hear, but instead finds songs "musically similar" to their favorites by using complex Music Genome Project Algorithms.
User has their own stations/ playlist created which you can share with friends. But these stations/playlists are limited to 100. Pandora's free version has Ads Supports. For the free version, the audio quality is 64kbps only. It is available in both Android and Ios.
5. Jango
Jango is also one of the best choices for music streaming platform. In Jango, suppose you have listened to one music from an artist then it will search songs from a similar artist and present you. You can also rate the songs and artists and accordingly Jango refine and serves the content to you.
6. Streamsquid
Streamsquid is free for listening to music. It is a music streaming service provider that enables users to stream music and helps to create their own playlists by importing them from sources like GrooveShark.The Source of music for Streamsquidis from legal third-party sources such as Youtube and SoundCloud.It is ads-free and has a good UI interface.
As Spotify and Apple Music are not available in Israel so, Streamsquid is becoming the best alternative to it.
7. Youtube
8. Jamendo
Jamendo is free Music Streaming Service platform and its websites are available in 8 different languages like German, Italian, French, Spanish, Polish, Russian, and Portuguese. User can log in into the platform and enjoy creating own playlists, save your favorite songs and albums, become an artist's fan, share in a social network, review tracks and tracks their favorite artists. Users can search for particular artists or names but also search by tags that artists want to identify their songs (genre, instrument, mood, theme, etc.).Users are free to listen to and download encoding audio files (96 kbit/s) in MP3 and Ogg Vorbis formats, using MP3 (192 kbit/s).
Listening and downloading are secure, unlimited, and advertising-free. The economic model of Jamendo is it enables artists to sell commercial music licenses for commercial use, such as music synchronization for audiovisual creations or background music in the public area, using Jamendo's licensing system.
iHeartRadio is iHeartMedia, Inc based free broadcast, podcast, and radio-style streaming platform.iHeartRadio is America's largest radio broadcaster and extends to other countries like Australia and New Zealand. It is available in almost all major platforms like Android/Ios, Windows Phone, MAC, Kindle Fire, and Web Browsers. On this platform, you can search by album title, artist, and track and can listen to it with the audio quality of 128 kbps. On this platform, you can create your own custom radio station and playlist so that you can access them easily next time. These custom radio playlists are free from ads. You cannot record your favorite songs for offline purposes.
It has two paid services.
iHeartRadio Plus: It allows you to play any song on demand and to skip songs as often as you want. You can save songs to previously created playlists as well as replay those songs. For android, it cost $4.99 and for iOS, it cost $5.99.
iHeartRadio All Access: With this plan, you will get all facilities provided by iHeartRadio plus, plus you can have offline listening(for android and iOS), create unlimited custom playlists, access to more on-demand music, etc. For android, it cost $9.99 and for iOS, it cost $12.99.
Official Websites: iheart.com , iheartradio.com, iheartradio.com.au, iheartradio.net.nz, iheartradio.ca
Mixcloud is also an online music sharing and streaming service gaining rapid popularity among the DJs.They are more focusing on radio presenters and DJs instead of artists. You are free as much as you want to listen to and upload. A vast and varied selection of content can be found through tags and especially effective suggestions across a wide range of styles, genres, and vintages.
It has free as well as paid plans. It shows ads in the free plan and if you use paid plan you have to pay 6.99 $ / month and will not show ads. here. They do not provide analytics for free. You will have to pay $15/month or $135 $ / year, they will get an analytics dashboard where you can monitor growth by monitoring your audience activities. From the dashboard, you can see like no. of people listening to particular songs and music from which location. You will also have access to "engagement graphs" that let you know when the listeners stop listening to your mix. This will help you trace trends to see what works and does not work properly with your mixes.
11. TuneIn
12. Myspace
13. Musicovery