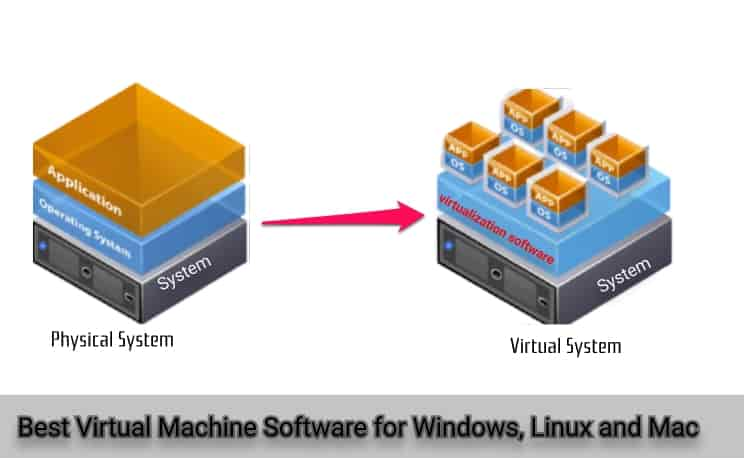 Table of Content
This article will provide you information on Popular| Best Virtual Machine Software, Virtualization, and Virtual Machine Concepts.
Virtualization and Virtual machine are trending topics in the technology field and knowing them are necessary.
So, at first, let's discuss Virtualization and Virtual Machine in short.
What is Virtualization?
In General, it is a mechanism for running multiple virtual machines using single physical hardware machines. It helps to create multiple simulated environments using the software in a single physical hardware machine. There are various types of virtualization such as network virtualization, storage virtualization, server virtualization, software virtualization. Here we will mainly talk about software virtualization.
Using multiple operating systems in single hardware without rebooting is an example of virtualization. Other general uses of Virtualization is Cloud Application.
What is a Virtual Machine?
The basic concept behind a virtual machine is to abstract one computer's hardware(CPU, memory, disk drives, network interface cards ...) in several different execution environments, generating the illusion as a private machine for each individual execution environment.
General UseCase of Virtual Machine
In the software development environment, for testing an application

Running Old or Incompatible Application

Trying to access software which is not present in HOST Operating system

Testing and Trying a new Operating System

Developing software for other platforms


Hardware considerations: Virtual Machine reduce hardware and electricity cost by allowing multiple OS running on one single hardware.
Best | Popular Virtual Machine Software
Here is the list of best and popular Virtual Machine software. It includes both open-source software(free) and paid software(paid).
VMWare WorkStation Player

Oracle Virtual Box

SolarWinds Virtualization Manager

Parallel Desktop

V2Cloud

Hyper V

Parallels

QEMU
VMware Workstation Player
VMWare Workstation Player is a free and powerful virtualization software provided by VMware for x64 based Guest Operating System which includes Microsoft Windows OS or 64-bit Linux distribution OS. It offers the industrial standard for applications on virtual machines. It is free of charge for personal purposes. But for commercial purposes, you have to buy Pro licenses.
Note: 💡 VMware Workstation Player is a free version of VMware Workstation Product and VMware Workstation Pro is a paid version of VMware workstation product.VMware Workstation Pro can be used for 30 days for evaluating product.
| | |
| --- | --- |
| First Released on | 1999 AD |
| Written in | C, C++ |
| Platform | x86-64 only |
| Operating System | 64 bit Windows and Linux, Solaris 10 and 11, VMware ESXi, FreeBSD, MS-DOS, Nowell NetWare |
| Websites | www.vmware.com |
General Requirement of VMware WorkStation Product are :
64-bit x86//AMD64 Processor launched in 2011 or later.

1.3 GHz or faster core speed

4GB RAM recommended, but 2GB is minimum
For more click here.
🤔 The host Operating System must have a 64-bit processor, with any 32 bit or 64 bit OS installed. But VM OS must have a 64-bit processor. If you installed VM OS in 32 bit OS then your VM OS cannot utilize more than 4 GB RAM in general. So it's better to install VM OS (64-bit processor) in a 64-bit processor and 64 bit OS.
Features of VMWare Workstation Player
It can be run on 64 bit Linux or Windows PC as Virtual Machine.

Easy to use and can run multiple OS on one system without much PC skills.

Has a convenient GUI and command line supports

Free for educational purposes.

Host/Guest File Sharing.

Can run VMs in many different view modes.

4K display supports

Multi-Language Keyboard Supports

It is highly versatile and has high speed.

USB devices can be accessible even USB 3.0 so that you can easily connects USB harddrives, web cameras,WIFI adapters supports.

Smart Card Reader Supports

Support of Linked Clone.
Features of VMware Workstation Pro:
All features of VMware Workstation Player

It can run multiple VM OS simultaneously. You can run multiple VM OS at the same time. You can switch the tab for using VM OS.

VMware Workstation Supports snapshots. So, can take, restore, and delete snapshots.
💡 Snapshot: With the help of snapshots, you can save any state of a virtual machine so that in the future if any problem occurs then you can revert back to that state. Also after saving you can continue to VM further.
It is a type-2 hypervisor so it must be installed on the host OS as an application.
💡 Type-2 Hypervisor vs Type-1 Hypervisor:

Type-1 Hypervisor doesn't require to be installed as software in the host OS. But Type-2 Hypervisor must be installed as software in host OS. Type-1 Hypervisor can run on hardware directly.
Oracle Virtual Box
VMWare Workstation Player is free powerful, open-source, cross-platform virtualization software provided by VMware for most of x64 based Microsoft Windows OS,64-bit Linux distribution OS, 64 bit Mac OS, 64 bit Oracle Solaris OS, and FreeBSD.
It is a type-2 hypervisor so it must be installed on the host OS as an application.
Some of the important features are :
Cross-Platform Virtualization

High Speed and Versatile

Has a user-friendly GUI and command line supports.

Snapshot Features: Can Take, restore, and delete snapshots.

Cloning Virtual Machine

Basic support for 3D graphics but this does not help to play the latest 3D games but helps for properly rendering images and videos.

4K display supports

USB devises support

Multi-Language Keyboard Supports

Support of Linked Clone.
It also has some enterprise features which is free for educational purpose but required license for commercial purpose.
Parallel Desktop
It is the virtualization software for Mac OS. It allows Windows OS to run in Mac OS so that we can access windows powerful application like Office Packages (Excel, PowerPoint, word) can be accessed easily.
Features:
Allow to Quickly and Easily moving as well as dragging files, folder, apps, and other stuff from a Windows PC to a Mac

Allow accessing windows powerful applications like Office Packages.

Run windows fast as VM without slowing down Mac.
It is not open source and has only a paid version. It only gives a trial for evaluation purposes.
V2Cloud
It is a desktop virtualization solution. It is a fully integrated DaaS(Desktop-as-a-Service) Solution that provides hardware infrastructure via the cloud. Its core feature is the "Cloud Workspace" Remote Desktop Service, which simulates a Windows workstation using Windows servers. It is only available in the paid version. But they will provide you a trial version for evaluation purposes.
So, the general use-case of V2Cloud is: If you have set up a cloud computer in V2Cloud then you can access your computer from anywhere in any device. And provides auto backup of workspace every day. And also multiuser can access same workspace as well so it is good for the team.
Features of V2 Cloud
Do not require any technical skills to use it.

Superfast DaaS Solution

Suitable for small and midsize businesses for using a fast cloud desktop.

Provide connection up to 250 concurrent users.

Within a workspace, all users can share applications and files.

Has Complete auto backup of workspace facilities every day.

No problem in disaster as well because it provides a second instance of your workspace in another geolocation.

V2 Cloud is available everywhere and can be accessed from a web browser and mobile app(ios, android), anywhere and it provides a full-blown desktop experience on all devices.

You just pay for what you use and can upgrade your Cloud WorkSpaces' performance and storage in seconds.

Office365 & AzureAD Integration

Network Visualization and Malware Protection.

Virtual Machine Migration and Monitoring

Provides GUI

Has high-quality technical supports