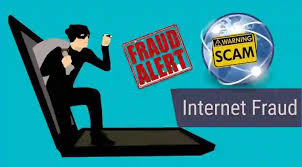 Internet Fraud | Online Fraud
We are using the internet every day and now in today's world, we are becoming too much addicted to the internet and its hard to live without it. Internet fraudsters know this and they are only looking for the best time to trick the people. They use various new ideas and schemes to gain access to our conscious data and money. These internet fraud or scammer use or sell our data to others for personal gain Doing this activity is also considered as a kind of internet crime. These crimes are increasing rapidly and are becoming difficult to trace and catch the correct fraudster.
In this article, we will learn some of the top internet fraud techniques which is popular among us. Beware of these frauds.
1)Phishing
Phishing is a kind of social engineering where phishers do attempt to steal your personal information like your username, password, ATM PIN number, credit card details, your hobbies, work history and almost all things that you have online. Phishers create webpages or mail that seem to be real in look and feel like of Facebook, Gmail, LinkedIn, Twitter or other trusted sites but they are actually fake.
Suppose they may create facebook like looking page and ask you to update or validate username and password and when you enter your credential then they gain access to your Facebook account. In this example below fake facebook page(on right side of image) is created where URL seems to be fake (ie. www.facebuk.com instead of www.facebook.com) and when you log in your account from that fake page then your facebook login credential will be sent to the phishers and your personal information along with username and password remains no more personal.
fig: real vs fake facebook page
They may create fake mail that seems coming from a bank or other trusted company and to ask you for to enter card details, PIN, mobile number, username and password, and other useful info for various reasons.
So, doing any types of online activities you must be careful.
2) Nigerian Scam / Lottery Scam / Advance Fee Scam
A lottery scam is a type of fee fraud where tricksters/scammers trying to tricks unsuspecting victims by sending an unexpected email notification, phone call or mail (sometimes with a large check) saying that "Congrats, you won." a large amount of cash or a certain price in lottery or competition or contest. The price you won can be anything from electronics gadgets to holiday trips.

For claiming this price, you will be asked to pay a charge. Such payments are often reported by scammers for insurance, government taxes, bank charges, or courier charges. And some among us, we follow their instruction and pay prescribed charges and scammer will finally have large lump sum money. And in return, they give nothing in the back. Also, they may request you to keep this information confidential just for stopping other people from getting your prize by mistake.
To make more real nowadays they have started accessing victim's social media account and contacting their family saying that they have won certain lumpsum
money in the lottery.
These types of scams are also called Advance Fee Scams or Nigerian Scams. Nigerian Scams because this type of scams was started from Nigeria.
Example: Google price scam is one of them.
Fig: Google Lottery scams (Source)
Fig: Another Google Scams
3)Online Dating and Romance Scams
Dating Scams or romance scams mainly take place through dating websites, social media or email where scammers creates fake online profiles with some fictional name or false identifies and tries to express strong emotions for you and he/she will make you believe in there their word and finally they may ask you for money, gifts, social media and mail password, credit card details, etc. Believing in their sweet word victims may give those stuff and if you give those then they may keep asking further next time and soon or later may lead you in financial crises.
So, do not send any money to anybody you did not meet.
4)Buy & Sale Scams
There are lots of buying or selling scams. Some types of buying or selling scams are:

a)Online Shopping Scams

b)False Billing Scams

c)Mobile Premium Services Scams

d)Overpayment Scams

e)Package delivery Scams 
f) Health and Medical Products Scams
In this article we will describe must popular Buy or Sell Scams: Online Shopping Scams
In e-commerce, customers can get all the products in one place with lots of discounts and its good yes? It is saving time as well as money. So lots of these flexibility people trusting towards e-commerce is rising.
So, looking at this addiction of people towards online shopping, fraudsters are started doing scams. Scammers are claiming to be legitimate online sellers in fake websites. And provides luxury items like gadgets, clothes at very low prices. And they will, in general, say that this product is available only for a fixed time so hurry up. You feel excited and paid online for those excited item but finally, you will receive nothing at all.
Many people are already aware of these types of scams. So, today's scammers are starting a new strategy of online shopping scams where they set up fake online stores. They set up this for a short time and keeps fake items. Then after making large sales, the store disappears.
5)Job & Employment Scams
This scam is generally done through email, letter or phone and offers you a job. And they may ask money and after the victim payoff money then they provide nothing back. The job is scam if it says "No experience is necessary", "easy job and paid very well", "if says candidates don't require to give interview", "if recruiter identity is not clearly stated", "if you have to give very sensitive information like credit card details, bank account number then it can be scam" etc.

To prevent yourself from job scams then try to follow the below step to find the job is real or not.
Step 1)Do phone numbers lookup and call the recruiter directly if possible.

Step 2)Do address lookup in google and google map. Google may not be always right so do follow step 3.

Step 3)Check the social media profile of the company on LinkedIn, Facebook or other famous social networking sites to see the presence of the company. If nothing found then that job has more probability to be fake.
Step 4)Search recruiter name in google (within double quotes to find exact result) and if found in many different job portals then that job has more probability to be fake.
6)Social Media Scams
7)Fake Virus Warmings 
8)Investment Scams
Source : scam watch sites
Coming soon