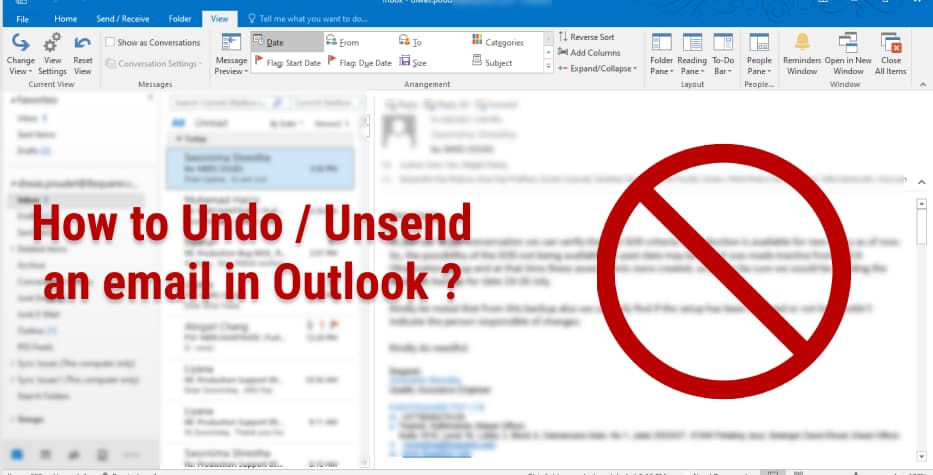 Outlook is one of the popular free mail service providers which every individuals and organization uses for sending mail to recipients securely. In the process of using, you may sometimes have an experience that you send a mail to recipient and notice there is a grammatical mistake, or forget to attach a file, or send to the wrong person, or used some unprofessional words, etc then you like to delete that mail, unsend or resend by correcting those errors. If you want to do then you are in right place. Today I will teach you how to unsend mail in outlook.
Before proceeding further into the process you must have the following things for unending mail in Microsoft Outlook with Outlook Recall Features.
1   You and recipients must be using Exchange Account and should both works within the same company and has the same Exchange Organization.
2  It works only on outlook installed on your computer or Microsoft 365. So, recipients must use the installed version of outlook. Outlook on the web or via EAS on a tablet or smartphone does not work. Also, Recipients must have an outlook running.
3  If the receivers have already opened the mail then unsend cannot be performed.
4  Recalling process only works if recipients receive mail in the inbox folder. If he/she has used action rules and moved mail outside the inbox then recall does not work.
Using Recall Features.
I like to send to mail to my friend by attaching a file as shown below.
And send it and outlook sends me a success message. Suddenly I notice that the mail has no attachment so I want to edit that mail and attach a file. So here are the steps I will perform.
1  Goto Send Items and double click on mail you want to edit.
2  Goto File and click on "Resend or Recall".Then click on "Recall This Message..." from the dropdown.
3  Select "Delete unread copies and replace with a new message" and then click on the Ok button
Now, you will be able to edit your mail. So just add an attachment to it. and then click on "Send"
4  After few minutes (around less than 2 minutes), you will get notify that recall has been successful in Send Items label. As shown below.
5 Now the recipients will receive only the latest version of mail.