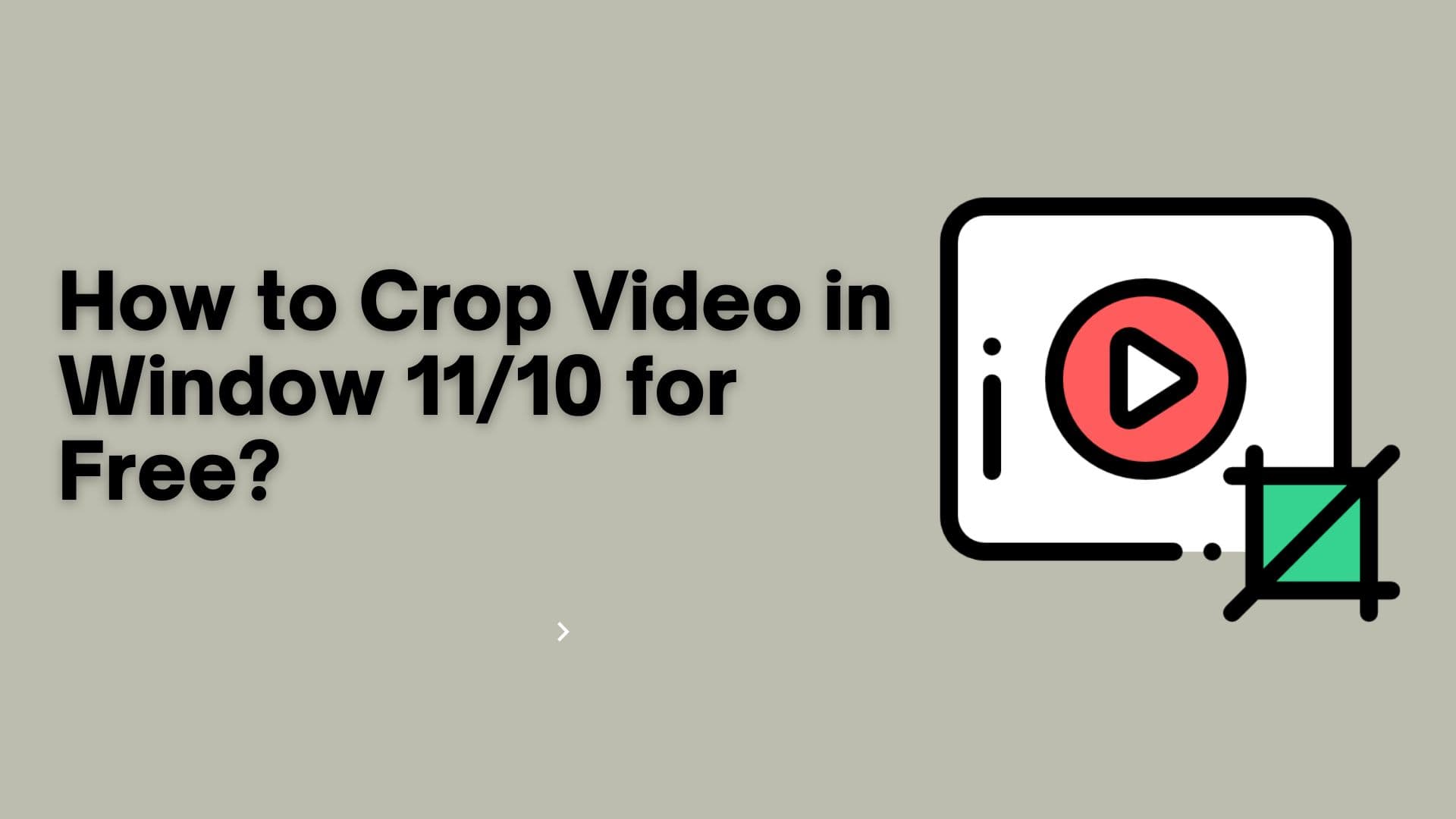 VideoProc Vlogger is a powerful video editing program with an easy-to-use and clean interface. It was designed for all types of creators. It offers a wide range of helpful creative tools, such as frame cropping, transition effects, and color grading, which can be utilized to bring your video footage to life and improve its quality.
In this tutorial, we will talk about How to Crop Video in Window 11/10 for Free? 

When editing videos, one of the most common tasks is cropping the footage. It is a type of post-production video editing that involves changing the frame of a clip and removing unwanted distracting portions that are located around the clip's periphery.
Video proc Vlogger enables you to modify the size of the image so that you can fit more content into a single frame; consequently, it enables you to provide the audience with more information.

There are many programs available for use in Windows 11 for cropping and editing videos, but Video Proc Vlogger is the one I prefer to use. 
How to Crop Video in Windows 11/10 for Free using VideoProc Vlogger?

I'm going to assume that you already have VideoProc Vlogger downloaded (link) and installed on your Windows 11/10. The purpose of this article is solely to make an effort to provide you with a comprehensive understanding of cropping in video proc vlogger. Here are the steps for Cropping Video in VideoProc Vlogger.
1 Open VideoProc Vlogger Software .
2 Create a new project 
3 Drag and drop your material to the media library. Or Click on the + icon and select your material and click the Open button.
4 Drag down the video that we are going to work on to the video track.
Then we have two options either to crop the whole video or a section of the video. Let's look at how to crop Whole Video.
5 Click on the video clip, then on the Crop Icon, as shown below.
This will open the Crop window as shown below.
6 Here we can see we can do various things.
There is an aspect ratio at the bottom.
Original => It is the original image.
16:9 => It is for  IGTV, Youtube, Widescreen as it looks better with 2K, 4K and 8k
4:3 => It is good for SDTV and computer Display
1:1 => It is good for Instagram Post and TikTok and Facebook
3:4 => It is good for Phone and Instagram
9:16 => It is good for IGTV , Instagram story ,Snapchats
1.85:1 => It is good for is good for CInema FILM (US)
2.35:1 => It is good for CinemaScope
3:5 => It is good for  iphone
5:8' =>It is good for Phones with a 5.8 inch display 
Suppose when we select 4:3 then that section is highlighted on the main screen. In the main section, we can see two images. On the left is the original image and on the right is the Edited image. Here we can clearly see Cropped Edited image is shown on the right.
7 We can resize the crop section.
For this just click on Custom in Aspect Ratio and then just resize from any side in the selected section.
8 We can move the selected section by left click on the selected section and dragging it.
9 We can rotate the selected section.
We can rotate the selected area by dragging the area outside the frame to adjust the rotation until you get what you want for your work.
Or 
At the top right corner, you will find the rotation, where you can put the value between 0 to 360 for rotating the selected area.
Here We have rotated 352 degrees and you can see this effect in the image below. 
10 There is a reset option at the right-most corner. Click reset upper right to revoke all the operations or original tool in the lower-left corner.
11 If you want to see the effect in real-time after editing, click on the play button.
The pause button will pause the video at the current position, while the stop button will return you to the first frame of the video.
If you need to see what is happening in each frame, use the prev and next buttons to adjust your playback frame by frame.
12 When you're finished editing, click Apply All, and all of your changes will be applied to the video.
In this way, we can crop the video in VideoProc Vlogger.
Important Features of VideoProc Vlogger
Now let's look at some of the important features of VideoProc Vlogger.
Excellent Format, Codec Support.
Process video without crashing or freezing by maximizing the use of graphics processing units (GPUs) from Intel, AMD, and NVIDIA; Increase the real-time speed by 47 times while maintaining the highest quality. On average, only 2 percent of the CPU is being used. (source)

Motion Feature

Speed Adjustment Feature

Split /Merge Feature

Audio Editor Feature

Video Dynamic Crop Feature

Action and Drone Shots Effect

Green Screen Video Editing Feature

Color Grading and Color Correction Feature

4K and 8K Support  

Remove noise, fix grainy photos/images

Support RAW files and LOG footage

Photo Slideshow Feature
What I like about VideoProc Vlogger is that it is free, there are no hidden fees, no watermarks are automatically added, there are no quality or export limits, and it provides weekly new tutorials for beginners.
How to Crop Video using VideoProc Converter?
We can also use VideoProc Converter to crop your video. The steps are as follows.
1 Download VideoProc Converter if you haven't downloaded else skip these steps.
2 To add a video clip, click the Video icon on the main screen and then the + Video icon on the next screen. 
Video in VideoProc Converter looks like this:
3 Click on Crop Icon. This will open Crop Windows in the new Window 
4 To activate Crop, check Enable Crop and then keep Free Presets to crop the video in any aspect ratio.
There are various other presents like keep Origin, Keep Current,16:9,4:3,1:1, Crop LetterBox, etc. You can play with it.

5 Click on the Done button.
Your crop window will now close, and you will find the newly cropped section of the video in the main windows.
How to trim or crop Video using Windows 11 Video Editor?
Windows 11 comes with its own built-in video editor, which you can use to cut out specific segments of a video. Let's look at how to go about doing this:
1 Click on Search Icon and find for Video Editor. Then click on Video Editor from the list.

2 Click on the New Video Project button

3 In the popup, give the name of your video. Let's say: TrimCrop Example. Then click on Ok 

4 Click on the + Add button, then in the dropdown, you have 3 options From this PC, From the Collection, and From the Web. In this tutorial, I will select From this PC, as my video is on my PC.
5 The next step is to drag the video to the video tracker, then click checked and finally click the tick.
6 In these new windows, Move the sliders inwards until you reach the desired portion of the video. Initially, the length of the video was 30.57 and now you are going to have 
7. Click on Done.
8. Now the original video clip will get replaced by a trim video as shown below.
In this way, we can trim the video using a video editor.
Conclusion:
In this way, we can easily crop and trim the video using VideoProc Vlogger, VideoProc Converter, and Windows11 built-in Video Editor. But VideoProc Vlogger has a greater number of advanced features, we strongly recommend that everyone give it a shot for VideoProc Vlogger for Cropping the Video.
If you are Windows 11 then you do not need additional software for cropping images. There is inbuilt software that comes with Windows 11 and that is Microsoft Photo. This helps you to crop Videos.
Please visit the following links for further information:
FAQ:
Is the trim and split the same in Video Editor?
In Video Editing, the Trim and Crop functions each perform their own independent operation. They are a helpful function that allows you to get the specific content that you want in the timeline of your video.
Trimming: Trimming video in Video editor removes the unnecessary parts of your video. Change the length of the video by dragging the clip's start or endpoint.
Splitting: Splitting video in VideoProc Vlogger can split a large video into several small video clips. First, move the play head to the point in the video where you want to make the cut, and then click the Scissors button.
Is Crop and Split the same in Video Editor?
No, they are different and they have separate functions.
Cropping resizes the video frame to a standard size, allowing you to easily share and post it.
Splitting function divides a video into segments. The clips are not lost; rather, they have become separated.
Can I crop the video in VideoProc Vlogger?
You can easily crop the video and footage by following the steps that were mentioned above. Yes, the interface of VideoProc Vlogger is very simple to use, and it includes cropping features.
Can I change a video's aspect ratio without cropping it?
Yes, it is possible with the help of VideoProc Vlogger. You are free to check it out and give it a shot.