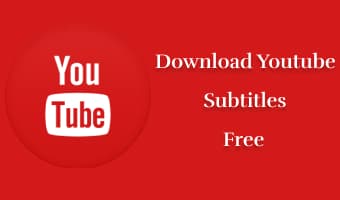 Download Youtube Subtitle
If we have internet and when we open a web browser then most of the time we open youtube and start looking video on a trending topic or search desire video. As Alexa reports, youtube is the world's largest video hosting network and on the basis of traffic volume, it is in second place after google.
Sometimes the video you are looking for is not able to fully grasp the meaning of the video content because of the hard of hearing or language-related problem. To solve this we enabled subtitles in youtube by clicking on "CC" on the bottom right corner of the youtube video window. So, youtube subtitles are becoming an important part and helping to enhance the viewing experience.
what do you ever think that we can download subtitle that is in the video? Can we do that! If you think so then you are in the right place.
There are numerous methods and in this article, we will explain some best methods.
For this to work, the video whose subtitle you are trying to download must have a caption/subtitle.
1) Using Chrome Extensions For Chrome Browser.
1 a) Youtube Subtitle Downloader
Open Chrome Web Store then search "youtube subtitle downloader" in the search field then click on Add to Chrome. button.
Then go to the top right corner and click on the icon shown below. Then you will get the "Youtube Subtitle Downloader" window popup.
Then click on "Text Format" for downloading the text format of your youtube video. If you want to download text along with time then click on "Subtitle Format".
1 b) Subtitles For YouTube Extension
1 c) Seek Subtitles for YouTube Extension
2) Using Websites
2 a) savesubs websites
First, copy your youtube URL and go to savesubs.com sites and there you will find text field. Paste the copied URL and next click on the "Extract & Download " button. Then you will get a list of languages and download format(srt or txt) side by side. Then click on the "Download" button.
2 b) Downsub websites ( click here )
2 c) yousubtitles websites ( click here )
3) Using Transcript option of youtube video
Here, we will use transcript option features of youtube:
Press the 3 dots under the video.

Then select "Open Transcript".
Then you will get a transcript of the video on the right side of the current video.
Notice that we have a transcript along with timestamps and we have to remove it. So,

On the same transcript section, click on 3 dots as shown below.
Then select "Toggle Timestamps" and you will get a transcript without timestamps.
4)Using Application
5) Using Browser Console