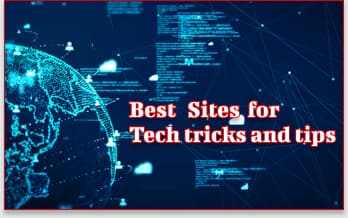 Best Sites for Tech Tricks and Tips ➤➤Technology is evolving and we like to update ourselves to the latest technology available around us. Knowing Tech Tricks and Tips is very helpful. If you are up to date with the latest technology tech then it makes you feel confident and secure with your daily activities either related to business or personal. 
As we all know, there are numerous sources from which we can learn about technology and smart tech tricks and tips. The source can be in the video, audio, pdf, HTML, or any other format, and there are also thousands and thousands of articles about technology tricks and tips. So, if you're struggling to get those valuable resources, you've come to the right place. This article may assist both novice and tech-savvy users in solving their problems in creative ways by utilizing the tech tricks and tips provided on the websites listed below.
Best Sites for Tech Tricks and Tips | Technology Sites
Note these tech tricks and tips sites are not in order.
1

Youtube
Youtube is an online video-sharing platform and has a large source of a variety of data in various formats. If you search for any tricks and tips contained on youtube then you will find large content there. It is an open platform where anyone can post a video.
| | |
| --- | --- |
| Founder | Chad Hurley, Steve Chen, Jawed Karim |
| Url | youtube.com |
| Alexa Rank |   |
| Launched | February 14, 2005 |
| Parent | Google |
2

Reddit
Reddit Technology is the forum for sharing and discussing the latest technological developments, tricks, and tips, as well as a wide range of discussions about the technologies, expectations, and applications. Reddit questions and answers are in mostly autopilot mode because most of the content in Reddit is user-generated content which includes text, video, and links format.
You can post your questions related to any topics and you may get an answer from other Reddit users and continue the conversation.
| | |
| --- | --- |
| Founder | Steve Huffman, Aaron Swartz, Alexis Ohanian |
| Url | www.reddit.com/ |
| Alexa Rank |   |
| Launched | June 23, 2005 |
3

Quora
Quora is my best question-answer forum where the question is asked, the answer is given, followed by the registered quora users. If you search for any tech tricks and tips on google, they may get quora blogs on the first page of google search to solve your problem.
| | |
| --- | --- |
| Founder | Adam D'Angelo, Charlie Cheever (Former Facebook Employees) |
| Url | www.quora.com |
| Alexa Rank |   |
| Launched | June 21, 2010 |
4

Wikihow
WikiHow is an online wiki-style community composed of an extensive set of "how-to guide" instruction and is able to help in a wide variety of categories. It is founded by Internet entrepreneur Jack Herrick in 2005. They have no relation to Wikipedia and Wikimedia. According to them, they got inspiration from Wikipedia.
If you want to search for any type of tricks and tips you can get them from their sites. This is one of my favorite tech sites for tech tricks and tips.

| | |
| --- | --- |
| Founder | Jack Herrick |
| Url | wikihow.com |
| Alexa Rank |   |
| Launched | Jan 15, 2005 |
| Available | 19 Language |
5

HowtoGeeks
How-To 
Geek 
is 
an 
online 
technology 
magazine 
founded 
in 
2007 
by 
Lowell 
Heddings. It
has 
covered a
large 
variety 
of 
technical
tricks 
and 
tips 
making 
you smarter every day

. 
| | |
| --- | --- |
| Founder | Lowell Heddings |
| Url | howtogeek.com |
| Alexa Rank | 787 |
| Launched | January 9, 2007 |
| Monthly Visitor | 34.1 Million (SEOQuake chrome extension reports 2020 August) |
6
 Lifehacker
Lifehacker blog posts cover a broad variety of subjects including Microsoft Windows, Mac, Linux, iOS, and Android apps, as well as tips and tricks on general life.
Lifehacker site's main motto is "Tips, tricks, and downloads for getting things done."
| | |
| --- | --- |
| Founder | Gawker Media, currently owned by G/O Media |
| Url | lifehacker.com |
| Alexa Rank |   |
| Launched |  January 31, 2005 |
| Monthly Visitor | 26.1 Million (SEOQuake chrome extension reports 2020 August) |
7

MakeUseOf

The MakeUseOf website is founded in 2007. It is acquired by Valnet. It is a world-leading website for learning about technology online and has specialties in windows, OS X, iOS, Android, Chrome OS, Office Productivity, Linux, Online Security, Buying Guides, Hardware, Gaming, and DIY.
8

HowStuffWorks

HowStuffWorks is launched on July 11, 1998. It is created by Marshall Brain. and later acquired by iHeartMedia on Sep 13, 2018HowStuffWorks talks about health, science, tech, culture, money, lifestyle, and many more.
9

Digital Trends
It is a technology news site available in English and Spanish. The site offers tech news, best products, products review, buying guidelines categories, mobile(android, ios) and PC(Mac, Linux, and windows) software download categories, office products software download, Browsers, and games download category, etc.
10

StackOverflow
Stackoverflow is one of the largest online communities for developers to learn, share programming knowledge, and build developer careers.
TechCrunch is a US online newspaper founded in 2005 by Archimedes Ventures' partners, Michael Arrington and Keith Teare that highly focuses on high technology, startups, and internet companies. It was later acquired by AOL in 2010.
TechCrunch has been hosting an annual TechCrunch Disrupt technology conference since 2011. It includes an event called Startup Battlefield, in which startups pitch their ideas to private equity investors.
12

thegeekstuff
It is a technology blog founded by Ramesh Natarajan. The main focus of this blog is "Linux and Open Source technologies".Here he published about Databases, Hardware, Storage, Linux tricks tips hacks, software development, Cool gadgets and websites, website design,
| | |
| --- | --- |
| Founder | Ramesh Natarajan |
| Url | www.thegeekstuff.com |
| Launched | N/A |
13

ComputerHope
ComputerHope is a computer tech-related support site. It is online in 1998 with the aim of providing basic computer information and help. The organization offers free technical support for most questions related to computers and includes information on computer products, help forums, product purchase tips, the contact information of third-party companies, a various tech term, news, guidance, chat, and internet based tools to help figure out how to solve computer problems.
14

Lifewire
Lifewire is one of the best tech tricks and tips sites. It was one of the top 10 technology information sites in 2017(source). Lifewire aims to provide advice and answers in a straightforward and condensed manner on common technical questions and problems. It provides actionable tech tips, answers, advice, and fixes to various technology
| | |
| --- | --- |
| Founder | Dotdash Company |
| Url | www.lifewire.com |
| Launched | October 2016 |
15 ghacks
Its main emphasis is on windows tips, software, web browsers, guides, and reviews.
Its most popular content is related to login troubleshooting guides.
| | |
| --- | --- |
| Founder | Martin Brinkmann |
| Owner | Softonic Company |
| Url | www.ghacks.net |
| Launched | October 2005 |
| Headquarter | Essen, Germany |
16

 

Tomshardware
Tom's Hardware is a technology-focused website owned by Future. Thomas Pabst created it in 1996. It offers articles, tech news, price comparisons, videos, and reviews on high-tech and computer hardware.
17

 Wired
Wired is an American monthly magazine that has print as well as online editions which focus mainly on how emerging technologies influence culture, economics, politics, and society, and business. It is founded in San Francisco in 1993 by Jane Metcalfe, Louis Rossetto. Its headquarters is in San Francisco Bay Area, West Coast, Western US.
18

 CNET
CNET stands for Computer Network. It is an American website that talks about news.FAQs, articles, reviews, podcasts, prices, buying guides, and informative videos on technology and consumer electronics products globally. It was founded by Halsey Minor and Shelby Bonnie. It was acquired by Red Ventures on Sep 14, 2020
It is available in various languages like Chinese, Japanese, French, Spanish, and German.
Mashable is the leading digital culture voice and the leading media company for the Connected Generation. In 2005, it was established. It includes information about technology, gadgets, science, culture, entertainment, business, and other topics.
20

 Gizmodo
Gizmodo is a website that publishes news about technology, gadgets, science, the environment, entertainment, and culture. We aim to provide transparent coverage of the worlds of technology, science, new privacy policies, and entertainment.
Gizmodo is a subsidiary of G/O Media.
21

 online-tech-tips
OnlineTechTips provides tech-related tutorials, news, and software reviews. Its main category includes Windows OS, Tips(Computer Tips, Google Tips, MS Office Tips, Web Site Tips), Software reviews and free download links, and information about gadgets, smartphones, and gaming.
22

 addictivetips
It mainly focuses on Windows, Linux, macOS, Android, Windows Phone, Web, Microsoft Office, VPN, Kodi, etc as a category.
23

 TechViral
TechViral is one of the best tech blogs which provides tech-related "How to" article, Andriod tricks and tips, Windows Tricks and Tips, Top List category of software, gadgets, smartphone, etc.
24

Techradar

TechRadar is a technology website with editorial teams in the United States, the United Kingdom, Australia, and India that focuses on technology, news, and reviews of tech products and gadgets.

Mission: "To be the source for tech-buying advice, offering everything you need to buy and enjoy the tech you love."

| | |
| --- | --- |
| Owner | Future plc |
| Url | www.techradar.com |
| Launched | 2007 with a team based mostly in the UK at first |
25

Theverge
The Verge, an technology news website is a comprehensive source of information on the latest technology trends and developments.
| | |
| --- | --- |
| Owner | Vox Media |
| Url | theverge.com |
| Launched | November 1, 2011 |