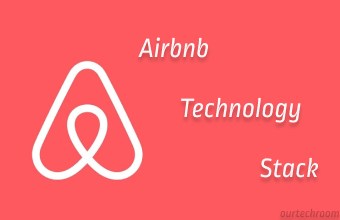 Airbnb is a Multinational online marketplace company based in San Francisco, Califonia, US. The company neither have their own real estate nor they host any events. It just acts like a middleman and received commissions from each booking. Its main aim is to provide service that allows property owners to rent out their spaces to travelers or tourists.Airbnb gets famous because not everyone can afford to stay in a hotel, And also sometimes finding a hotel in a busy area is also difficult. So, travelers nowadays preferred online services as Airbnb has provided. It started its services in 2008 and now it's expanding its services in more than 190 countries.

So, then what technology stack they have used for building these services. Let's go through them one by one in detail.
Developer Stack

DevOps and IT

Product and Design

Human Resource

Analytics and Data Science

Finance and Accounting
1) Developer Stack
a) React Native
React Native is an open-source mobile application framework developed by Facebook.It is used for developing natively rendering mobile application for iOS and Android. It is also used for building web applications.
b) Ruby on Rails
Ruby on Rails or Rails is a server-side productive web application framework. Development time of web application is
much much faster than Java and C# framework.
c) MySQL
MySQL is a free and open-source relational database management system. It is open to the important component of the LAMP stack. It runs virtually on os platform including Windows, Linux, and UNIX.
d) Redis
Redis is acronyms for remote dictionary servers which is basically store data in key-value pairs which are considered to be a database. It is no SQL database. It is used mainly as a database, cache, and message broker. Redis maintained a cache of ticket trends resulting from an elastic search for node application to render on web.
e) Javascript
f) Hadoop
Hadoop is an open-source data framework that provides processing and analysis of very huge large amounts of data. Hadoop can work with changing schema(not strict as of RDBMS) which support the various file format. Hadoop is not actually interactive like a general database. It is a batch processing system.
g) OpenSearch
OpenSearch is a set of technologies that allow search results to be published in a format that is suitable for syndication and aggregation. It is a way to publish the search results in a standard and accessible format for websites and search engines
h) MapBox
Mapbox is an American provider of custom online maps for websites and applications .
i ) Elastic Search
j) Git and Github
k) Amazon RDS
Airbnb moved its main MYSQL database to Amazon Relational Database Service.They have chosen Amazon RDS because it makes the cloud's relational databases easy to configure, operate, and scale.
l) SASS
SASS stands for syntactically awesome style sheets. It is an extension of CSS3. Its important features are nesting rules, variables support, mixins support, extending styles with inheritances, and many more.
m )Apache Airflow
It is a workflow management framework. Airflow is being used internally at Airbnb to build, monitor and adjust automate movement and transformation of data.
n) Amazon CloudFront
Amazon CloudFront is a CDN operated by AWS. It offers a global content delivery network (CDN) facilities that speed up the delivery content to the user. Airbnb uses it for the same purpose.
o) Twilo
Twilio is a cloud communication platform uses for customer engagement using a communication app which the developer just writes few lines of code in the web site and application and finally helps the user to make and receive calls, and send and receive a text.
Airbnb uses to bridge the communication gap between guests and maybe hosts as well.
2)DevOps and IT Stack
DevOps and IT Stack of Airbnb is as shown below:
a) Amazon S3, EBS
Airbnb stores all its data to AWS.
b) Amazon EC2
Airbnb uses an elastic load balancer, which distributes incoming traffic automatically between several instances of Amazon EC2.
c) Docker
Docker is an open-source platform as a service (PAAS) product of software containers where containers help software to run while it is being moved from one environment to another without any problem and glitch.
d) Nginx
nginx is open-source HTTP and reverses proxy server as well as mail proxy server. Some of the features that Nginx have are: load balancing, IPV6, Reverse proxy, mail proxy, FastCGI support with caching, Handling of static files, index files, and auto-indexing, etc. Nginx is designed to offer high concurrency and low memory usage.
These are most popular Airbnb DevOps and IT stack. For more visit click here.
3) Product and Design
a) Google Font
b) Hive
c) Sketch
d) InVasion
4) Human Resource
a) Checkr
b) Cloudpeeps
c) Workday
5) Analytics and Data Science
a) Amazon EMR
b) Apache Hadoop
c) Apache Sparke
d) Mixpanel
It is the Funnel Analysis Tool.It helps you identify where people are dropping out so you can do analysis and raise your conversion rate.

e) Google Analytics
f) Similar Web
6) Finance and Accounting
Source :
Learn more...
Google Technology Stack and Product