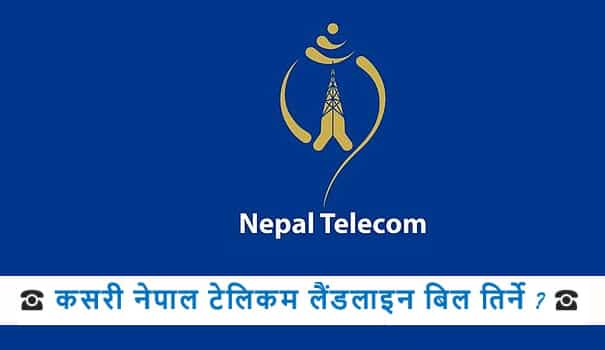 How to check and Pay Nepal Telecom Landline Bill?
Do you remember? About a decade ago, you have to stand in long queues waiting for your turn to come on the whole day just for paying Nepal Telecom Landline Bill and receive a hard copy of the landline bill. Also sometimes you may have forgotten paying the bill in time and you end up paying late and finally charges you fine. Time has changed and now you can make Nepal Telecom Landline Bill Payment while you are at work, home, at the road, in between meeting or anywhere comfortably in no time.
For many years Nepal Telecom is trying to shift landline bill payment to an online payment system, and finally gets successful and started its services from 2075 Magh 5. The time for an e-bill as the default option is not yet fully used by all the people but due to the rapid development of technology and internet facilities one day it will be a default option.
It involves two Step:
1) Check Landline Bill Amount
Check Landline Bill Amount
Here, we will discuss two methods of checking Nepal Telecom Landline Bill:
a) Through SMS ( Text Messaging)
The PSTN Landline Bill can be checked using any NTC number by sending SMS to 1415. It is the fastest method for checking bill amount. Follow this step by step:
Go to your message box

Type CB*

AreaCode

LandlinePhoneNo

and send it to 1415

Then you will get the message from NTC stating as below:
  Dear customer, your due amount is Rs. 

xxxx.xx

 and your available credit 
  is Rs. 

xxxx.xx

 . Please dial 

*1415#

 to subscribe and query data package.-NT


Fig:
b) Through IVR System
Using PSTN bill inquiry System ( IVR ).Follow these steps:
To know the balance for this particular month, dail 1606 in your landline phone and then just dial 1 for the Nepali language and 1 for the Landline bill and then 1 to know the balance for that particular month for individual bill month.
You can also dial 2 if you will also know the pending bill amount. Then they will reply to it with an amount to pay.
This method may not work in some regions.
c) Using the Nepal Telecom Website
Follow this step by step:
Goto your browser URL and type: http://gsmbl.ntc.net.np/. or click here
There select a "

PSTN Landline Phone

" from

Service

List.
Then from next dropdown select Month
Then in the next textbox type your

PSTN landline number

.
Then in the next field enter "Account No" given by Nepal Telecom. This is a unique identification number for your landline.
Then click on "Check Bill".
2) Pay Nepal Telecom Landline Bill Amount
After you have known the total amount to pay, you can use various methods for paying that amount. Some of them are listed below.
a) Ways 1: Dailing 1413
Follow this step by step.
Buy a recharge card and carefully

scratch the

shaded

area

of

your

recharge

card.

Dial

1413

from

your

mobile

or

landline

phone and pay the bill by following voice direction.
b)Ways 2: Using Web Recharge.
Follow this step by step:
There Select your Subscriber Type among the radio button list.If you want to pay Landline Bill , Select "LANDLINE"
Enter your Landline No or ADSL no in a Subscriber No input box.

Enter NT Re-charge Pin No in an NT Re-charge Pin Box.

Read the text in the image and Write in the Text Box.
Click the Recharge button.

Do not Close the web page until the Response is Displayed.
Check Nepal Telecom Landline Bill .Click Here.☝
c) Using ESewa Payment Services
For this you must-have mobile app (ios/android).If you don't have then please visit this link for download for android users and this link for iPhone.
- Open eSewa App. If you haven't registered then register it and log in to it.
- Go to the top left corner and click on '🔍' icon. Shown below.
fig: Search 🔍
- Their type 'Landline' and then clicked on "NT Landline Payment".
fig: Selecting NT Landline Payment
- Then in the next screen, type your "Landline Number" in the first field, in the second field type "Amount" that you have to pay and then click on "Proceed".
fig: ESewa Landline Payment(final step)
Here, "Amount that you are going to pay must be greater than or equal to 100".
If you follow this process, you will get 2% money back from esewa, which means if you pay Rs 100, you will get Rs 2 back from esewa.
Check Nepal Telecom Landline Bill .Click Here.☝
d)Ways 6: Using IME Pay Services.
e)Ways 5: Using iPad Services.
f) Ways 6: Visiting MPoS Center.
and many more...
Frequently Asked Question:
If you pay only a certain bill amount then what happens to the remaining due amount?
Ans:

The

excess

money

will

be

paid

in

advance

and

will

be added

in

the

next

telephone

bill.