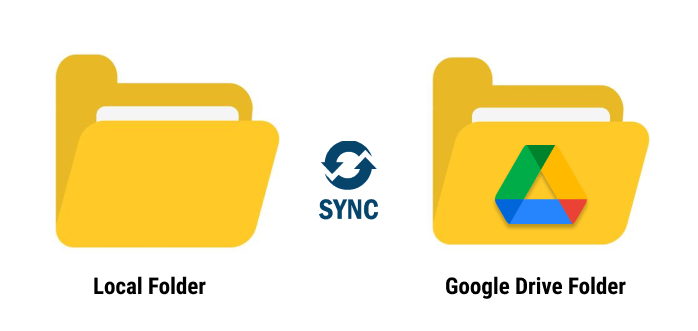 Google Drive is one of the popular cloud-based storage services provided by Google which provides 15GB of free space for the user to keep their documents, photos, and other files, and these data are stored in Google server.
You feel irritates moving files from local PC to google drive to backup your local files. And for editing, you go to the same google drive and download that to local and make changes to it and again upload it to google drive. This process irritates the user. So, in this article, I will solve your problem by automatically syncing the local folder to your google drive. So, without delay let's start.
The method I am going to mention is on the basis of two-way sync ie. if you made any changes to folder and files in google drive then will automatically get replicate those changes in your local directory. The latest version you have made change reside in the local folder will be synced back to your computer in the google drive folder.
In this article, I will be explaining sync between local folder to google drive using Google Drive Desktop Apps
Google Drive Desktop Apps is a google provided Desktop Application that lets you seamlessly sync the content of the local folder to google drive and vice versa. Google Drive Desktop Application is the unification of two applications ie. Backup and Sync, and Drive for Desktop(formerly Drive File Stream). Google Drive Desktop Application is available for Windows, macOS, and mobile devices as well. To get the full potential of google drive it's better to use both Google Drive Desktop Apps and Web Apps.
Why sync local folders to Google Drive?
Can access your google drive contents on your computer quickly.

Easily search the google drive content on your computer.

Easy to organize your files on your computer and will auto-sync on the web.

Can open files easily with windows applications like MSWord, Ms. Excel, etc.

Files are available offline and are cached and you connect to the internet that will sync back to google cloud.

Photographs (including screenshots and RAW photos) can easily be backed up to Google Photos using Google Drive Desktop.

Can share the same Id and share the same file seamlessly by multiple users.
Note that Google Drive for Desktop doesn't take up space because the Drive files and folders are stored in Google Cloud storage. But if turning on Available offline features for google docs, sheets, and slides then will take local computer storage.
System Requirement
Windows Environment: Windows 10 and above. Not available for Windows Server version.
macOS Environment: OS X 10.11 El Capitan and above.
When using Google Drive for Desktop is not better choice?
If you use Google Drive for desktop and activate offline mode in google drive and your disk space is low.

If you have few bandwidths available and it may take a bit of internet bandwidth for downloading google drive content to the local computer. Also, google drive automatically keeps syncing with the local drive and your internet bandwidth will get used. However, you can set the bandwidth limit to the google desktop application as well. Also if the drive is consuming too much internet connection then you can use the pause sync feature(explain below)
If you don't have enough Google Storage then sync may not work so for this free up space or get more storage from google drive.
Procedure:
1 . First install google drive desktop apps from here.
This will create a new Google Drive in Windows Explorer. All of your google drive files will reside here.
2. Double click on Google Drive from Windows Explorer, you will get the My Drive folder. Double click on the My Drive folder.
This will show you all the files and folders present in google drive as shown below.
Now go to your google drive web, you will find the same content as above.
3 Now, let's add an image in local google drive. Here, I have added an image file with the name ourtechroom.jiff file.
Found the same file in google drive web as shown below.
Problem and Solution to Google Drive for Desktop
Sometimes syncing between google drive and the local drive does not works. sometimes shows "Unknown error occurred".Also, sometimes Drive for desktop stops or quite suddenly.Also shows "Sync Complete", but 20 or so files weren;t synced"
So here are some troubleshooting to common problems with sync.
Check your internet connection

Drive can be full. Delete unnecessary files from google drive.

Restart Drive for desktop and computer.

Temporarily pause the sync and resume it.

Resign in your google account.

Sometimes Firewall and antivirus block Google drive. So in firewall and Antivirus allow google drive to allow




sync.

Reinstall "Drive for Desktop"
Find Error List occur in Google Drive Desktop
1) Under Notification Area at the right side of the taskbar Right-click on the Google Drive icon.
2) Go to Settings and select "Error List"
If any error is present then will get the list here.
How to Pause Sync Drive for Desktop to Google Drive Cloud Storage ?
1) Under Notification Area at the right side of the taskbar Right-click on the Google Drive icon.
2) Go to Settings and select "Pause Syncing"
Now syncing gets paused and now downloads/uploads are stopped from google drive to drive to desktop  and vice versa will stopped.
How to resume synce Pause between Google Drive Storage to Drive for desktop ?
1) Under Notification Area at the right side of the taskbar Right-click on the Google Drive icon.
2) Go to Settings and select "Resume Syncing".
Method 2: Syncing Google Drive to Local Computer using Google Drive for Team
Using Google Drive for Team: This is paid one and has numerous advantage features that google drive for desktop does not provide.
Method 3: 

Syncing Google Drive to Local Computer using Third-party Tools

There are many third-party tools for auto syncing google drive files to the local computers. Kernel G Suite Backup tool, Insync tool, Syncdocs, Cloud HQ: Sync Google Drive,odrive, GoodSync, etc.
Using Insync for syncing google drive to Local Computer
Insync is paid tool for syncing google drive, Onedrive, Dropbox to local computers folders and files. It is available for Windows, Mac, and Linux. It supports both desktop and server environments. So, you can sync contains(folders and files) present on desktop as well as a server with google drive.
It has 30 days money-back guarantee as well. It can try with a 14-day free trial. For more info: click here.
It has two types of plans for Desktop Environment
Type

Sub Type

Pricing

Personal

Solo (For Individuals)

$29.99 per month per account (nontransferable)

2 way and 1-way sync 

Unlimited Machine

Personal

Personal (For Home and School Use)

$39.99 per month , unlimited account

2 way and 1-way sync 

Unlimited Machine

Personal

Developer ( For Freelance and Consultant)

$59.99 per month, unlimited account

2 way and 1-way sync 

Unlimited Machine

Sync a network drive directly to your cloud storage

Business

Company (Any Size)

1 work account (transferrable)

 

Includes syncing external drives

Sync a network drive directly to your cloud storage