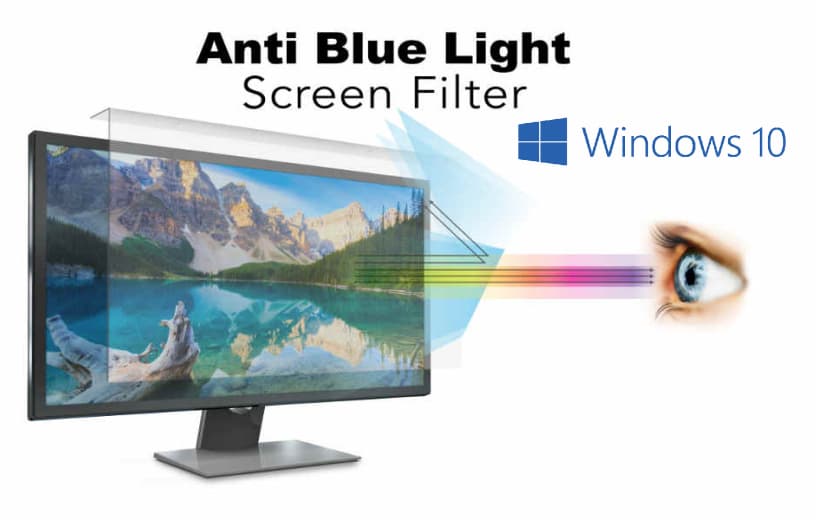 When you keep looking at a computer screen for a long time you may get eye strain because most electronic devices like laptops, computers, mobile screens will have dangerous light like blue light along with other light in them. Sometimes you will have watery eyes, redness, sleep disruption, etc which are a common problem you have when working with a computer for a long time especially during the night. Actually, this light seems to not much disruptive during daylight hours but will become most disruptive at night. It appears to resemble the sunset and the darkness of the evening with the qualities of ambient light it provides. 
Do not worry, windows 10 after its Windows 10 Creator's Update 1703 has introduced Night Light mode which acts like a blue light filter. Which we will discuss soon.
Note: Windows 10 before 2017 doesn't have this feature.
Why Blue Light is dangerous?
Blue Light is visible light having wavelengths between 400 and 450 nm. Most of the electronic devices like laptop, TVs, the smartphone has a wavelength between 400 to 490 nm. Blue light has a higher frequency, shorter wavelength, and more energy than general colors available in a visible light spectrum. Due to this more energy per photon of light, and when it is exposed to the longer duration can damage various cells in our body like a light-sensitive cell in the retina.
Facts: Blue light is only slightly less powerful than UV light.
Turn On Night Light Filter in Windows 10
Windows 10 after Windows 10 Creator's Update 1703 introduced one of the useful features called "Night Light".With these Nightlight features, windows try to reduce the blue light present on the computer screen and increase warmer colors at night to make it make the natural color.
According to Microsoft "Night Light can help you get to sleep by displaying warmer colors at night."
Let's enable Night Light Filter with the following step.
1 Press Windows + I keyboard combination to open Setting Menu
2 Click on System Menu
3 On the left-hand side, select Display Settings
4 Toggle Night Light Switch to ON
Here, we can clearly see that, Night Light Switch will auto active after 6:45 PM
Increase/Decrease Blue Light Filter of Night Light
1 Click on the "Night Light Settings" link below Night Light Switch.
2 Slide the slider to set the quantity of blue light to filter
 The lowest is 0 and Highest is 100.
Schedule Night Filter Windows 10
You can schedule the Schedule night filter anytime you want.
1 Under Schedule, you have two option first, either 
Sunset to sunrise

Set hours
    For Set Hours, we have to set Night Light Turn ON and Turn OFF time.
This is how night filter looks like:
Software for Night Light / Blue Light Filter
If your windows OS night filter doesn't work and like to try other software then you can try below software
1.

f.lux   
It is free software that is helpful to work at night without much eye strain. It is available for Windows, Mac, and Linux,Android.
F.lux always makes your computer screen look looks like the room you're in. When the sun sets, it's like the indoor light on your computer. It's just like sunlight again in the morning. Tell f.lux what type of lighting, and where you live, you have. Forget it then. Automatically f.lux will do the rest.   
2.

Redshift
It is free software and available for Windows, Mac, and Linux. According to them, they are inspired by f.lux.
The color temperature is adjusted to the sun's position by Redshift. During night and daytime, a different color temperature is set. The colored temperature smoothly changes in the twilight and early morning, from night to day, to slowly adapt your eyes. The color should be set at night in order for the lamps in your room to match.
The temperature of light on a cloudy day is higher.
3.

G.lux
4.

Iris
Chrome Extension Blue Light Filter / Night Filter
Some of them are as follows:
1. Blue Light Filer
2. Screen Shader
3. Night Shift
Frequently Asked Questions:
Ans: Yes, Blue Light is useful during day time.
 Is blue light filter good for the eyes?
Ans: There is a blue light filter in smartphones and computer they help to reduce the quantity of blue light that reaches the retina in our eyes.
(source). Due to which today's smartphones and computers, TVs have a blue light filter which helps to prevent your eyes.
Does Windows 10 have night mode?
Ans: Yes it has built-in which is provided after Windows 10 build equal to or greater than Build 1103.
Is it good to use a blue light filter all time?
Ans: A blue light filter on the computer screen is recommended to use during night time and Microsoft does the same if you have not changed any settings.
Windows 10 Night Light Filter Not Working?
Ans: Windows 10 Night light depends on the graphics driver of your computer to adjust the color temperature to reduce blue light. Sometimes if your graphics driver does not work properly or not compatible with your OS version in this case your Night Filter may not work properly.
So, it's better to update the graphics driver to fix Night Light.
1) Go to Run and type: devmgmt.msc
This will open the device manager.
2) Under Display Adapters, you will see a list of the graphics cards.
Write Click on each of them and then click on "Update driver".
3) Select "Search automatically for drivers" and windows will search for you. If this doesn't work then first of all download the driver and then again follow steps 1 and 2 and select the option "Browse my computer for drivers".Then select the file you have downloaded and follow the steps as suggested by Windows OS.
How to disable Night Light Completely?
Ans: We can turn OFF or disable Night Light easily with the following steps:
1 Press Windows + I keyboard combination to open Setting Menu
2 Click on System Menu
3 On the left pane, select Display Settings.
4. Toggle Night Light Switch to Off