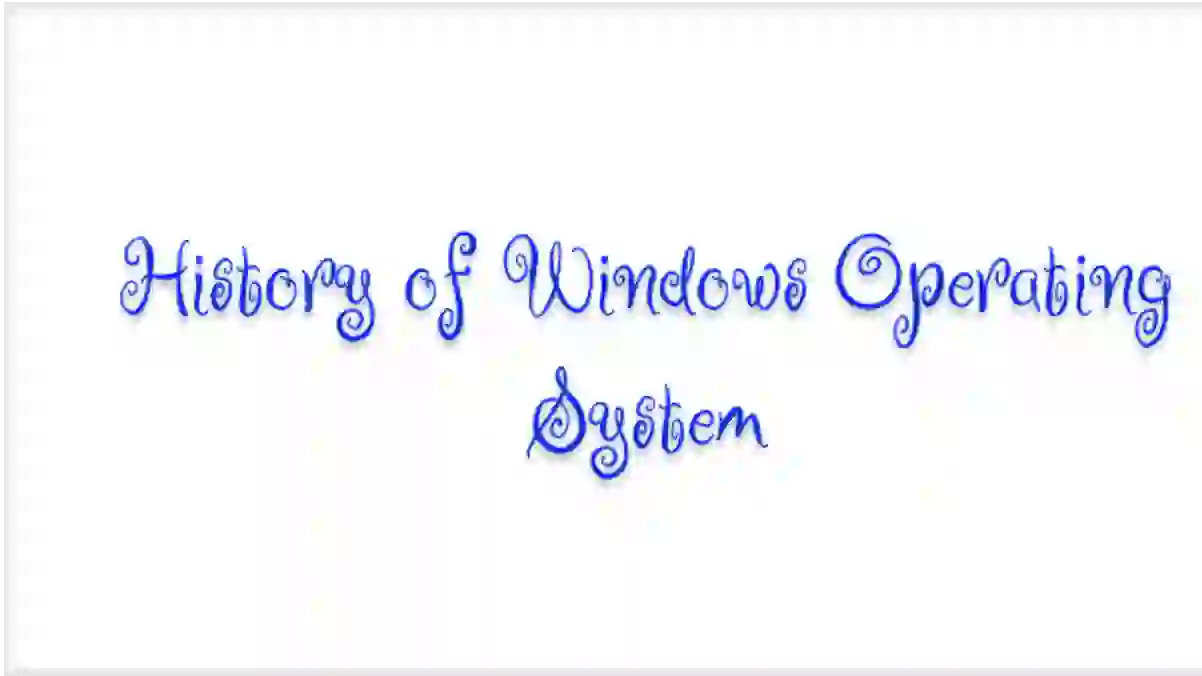 Table of Content
Microsoft Corporation is an American multinational tech company who is the leading developer of personal computer software system presents to date, founded by Bill Gates and Paul G.Allen on April 4, 1975 AD. Its headquarters is in Redmond, Washington.
Evolution of Windows Operating System
1 ) MS-DOS ( 1981 )
MS-DOS was a non-graphical, command-line operating system originally developed by Microsoft for IBM-compatible personal computers. Microsoft has purchased QDOS (Quick and Dirty Operating System ) from Seattle Computer Products, renamed it as MS-DOS 1.0 and offered it to IBM as their new personal computer. From 1981 to 1997, a different version of MS-DOS was developed and on each update, some new feature was integrated to meet the demands of its users and professional programmers alike. Some of the versions of MS-DOS are as follows: MS-DOS 1.0, MS-DOS 1.11, MS-DOS 1.14, MS-DOS 1.25, MS-DOS 2.0, MS-DOS 3.0, MS-DOS 4.0 and many more.
2) Windows 1.0 (1985)
Windows 1.0 was the first graphical OS of Microsoft, which was released on November 20, 1985. It was a 16- bit multi-tasking shell that runs on the top of the existing MS-DOS installation, so we can say this OS is not a standalone Operating System. Some of the popular Windows Applications at that time are Windows Paint, Windows Write, Notepad, Card File, Calculator, Clock. Microsoft provides the longest supported out of all versions of Windows to Windows 1.0 for 16 years, till December 31, 2001. This version was later succeeded by Windows 2.x
3) Windows 2.0 ( 1987 )
Windows 2.0 is a 16-bit GUI-based OS released on December 9, 1987. Windows 2.0 allowed users to control screen layout and application windows to overlap over one another( in Windows 1.0 only tiled windows is supported). It used icons to represent programs and files. I had several improvements in the user interface and memory management then preceded one. Windows 2.0 supported the VGA display system, which allowed you to use 16 colours at 640x480 resolution. It also introduced more sophisticated keyboard-shortcuts like Alt+Esc and the terminology of "Minimize" and "Maximize".It is the last version of Windows that doesn't require a hard disk.
Some application in windows 2.0 are: Calculator(calc.exe) , Calendar (calendar.exe) , Clipboard( clipbrd.exe), Clock (clock.exe) ,a computer game of reversi, Spooler, terminal,write, program information file editor (pifedit.exe) , control panel (control.exe), Raster graphic editor (paint.exe).
Succeeded by: Windows 2.1x (1998)
Windows 2.1x (1998)

Windows 2.1x supported the Windows/286 processor, but to keep updated over time, Windows 2.1x developed windows/386 processor to support the new 386 processor. Note: Windows/386 could run multiple DOS application simultaneously in the extended memory that Windows/286 can't do. Windows/386 is much more advanced. It introduced a protected mode kernel(ie .It allows system software to use features such as virtual memory, paging and safe multi-tasking designed to increase an operating system's control over application software), above which the GUI and applications run as a virtual 8086 mode task. It allows several MS-DOS programs to run in parallel in "virtual 8086" CPU mode, rather than always suspending background applications.
4 ) Windows 3.0
Windows 3.0 is also a graphical version of windows and considered as a third major released version at that time. It was released on May 22, 1990. From a commercial point of view, this os is the first success for Microsoft. Critical Windows operation is now re-written in Assembly which makes this OS even faster and lighter than the previous OS. This OS also has introduced two main features, they are VGA and virtual memory system which adds flexibility in the system.
5) Windows 3.1
It was released on April 6, 1992 AD with the following features which is not present in the previous Windows version. It can operate in a 16-bit environment.
Some of the features are :
1) True Type font support: This type of font offered various font developers a high degree of control in a precise way of how their fonts are displayed and also at what size sizes font to display.
2) Drop Real Mode Support: Real mode support which is present in the previous version of windows was removed because real mode does not support for memory protection, multitasking and code privilege levels.
3)Windows Registry: Windows 3.1 also introduced Windows Registry, which is a centralized database of settings, information and values for software and hardware installed on windows os.
4)Can run the program via command prompt
5)Windows 3.1 can access theoretically 4 GB memory in 386 Enhanced Mode where the previous version can just up to 16MB maximum memory.
6) Windows 95
Windows 95 is a successor of Windows 3.1x. It was the first operating system in the 9x family and was released on August 1995. It is a 32 bit self-contained OS.

Some of the important features of Windows 95 are:
1)Windows 95 allows as to write the name of the file with 255 characters along with mixed case(upper and lower case both).
2) Windows 95 allows preemptively multitasked protected-mode 32 bit and MS-DOS-based applications. So, it can run multiple programs at once. Not only this, it can run both 16 and 32-bit
application at once.
3)Windows Internet Explorer or Microsoft Internet Explorer was included as a part in Windows 1995.
4) Introduction of Taskbar and Start Button.
5) "plug and play" hardware compatibility has added for both portable and desktop system. Just plug hardware to the system then Windows 95 will automatically install proper hardware for it. It can run old software of Windows 3.1x as well.

6)Expanded memory limitation.
7)Provides power management support ie. APM (Advance power management) support for a laptop computer.
8) Support for server-based validation of the login process.
9)Property sheets replace PIF(Program Information Files which is executable file) files(previously used in Windows 3.1) in Windows 95
10)Other miscellaneous abilities added in Windows 95 are built-in dial-up networking for the Internet, improved sound and video performance,super-fast video performance features added and the new Microsoft Exchange electronic communication abilities are added.
System Requirement of Windows 95
It required 4 MB RAM.

It required 50MB HDD



7) Windows 98
Windows 98 is a successor of Windows 98. It was the one operating system in the 9x family and was released on June 25, 1998, on market. Blue Screen Of Death, a famous fatal error seems to be first in Windows 98. It often led to users rebooting on their system and losing an unsaved job.
Some Improvement and Features of Windows 98 are:
a) It is better than Windows 95. Windows98 supports more than 1900 current hardware systems internally and has passed the compatibility test with over 3500 common software.
b) Windows98 offers new tools like Microsoft Magnifier, Accessibility Wizard and Microsoft Active Accessibility
c) Windows 98 has introduced new HTML based help function with 15 problem-solving wizards.

d) In Notepad, users can set the font.

e) GIF transparency is supported by Microsoft Paint.

f) A TCP / IP link technique is supported by HyperTerminal and can be used as a Telnet Client.

g) Windows 98 is more robust than Windows 95 in registry handling to prevent corruption and several improvements are made to remove constraints and enhance registration efficiency.

h) All parts of making the desktop a dial-up Server were included in Windows98.

i)Windows98 is supporting built-in Power Interface and Advanced Configuration ports to enable or disable your PC.
and many more
8)Windows NT
Windows NT's first version was Windows NT 3.1 and was made for workstations and server pcs and it was released on July 27, 1993 AD. The operating system was supplied with both Windows NT Workstation and Windows NT Server versions in two editions. Windows NT Workstation, which is simply called Windows NT, has been intended to serve as a client workstation, while Windows NT is a network server.
The following are 4 variants of Windows NT:
Windows NT 3.1 (July 1993) – Workstation, Advanced server

Windows NT 3.5

(September 1994) - Workstation, Server

Windows NT 3.51

(May 1995) - Workstation, Server

Windows NT 4.0

(July 1996) - Workstation, Server, Server Enterprise Edition, Terminal Server, Embedded
Some of the renown features of Windows NT are:
a) Windows NT family has launched a default NTFS file system that improves disk performance, automatically recovers from disk flaws, supports large-sized hard disk drive, proper disk space utilization provides protection by authorizing and encrypting the data, etc.
b) It is a multi-user and processor-independent operating system.
c) Windows NT supports preemptive multi-tasking features to share the operating system and hardware resources across all computer programs.
d) It supports a number of hardware systems like RISC(Reduced Instruction Set Computer) system like PowerPC Processor, Alpha AXP, MIPS R4x00 and CISC(Complex Instruction Set Computing) system like a Pentium based system of Intel.
9)Windows ME
Windows ME is a short form of Windows Millennium Edition which was released on June 19, 2000, by Microsoft Corporation and it was the last OS for Windows 9x family. Microsoft has released Windows ME for the replacement of Windows 98.
Some of the important features added in Windows ME are:
1)System Restore Tool: Help to restore the system to the previous stable state of Windows.
2)Automatic Windows Update: It included a new function called "Windows Update" which downloads and installs Windows Update from Microsoft Windows Update website upgrades automatically.
3)Windows Movie Maker: It allows users to capture and edit media contents.
4)Windows Image Acquisition (WIA): It allows Windows Application to connect and communicate with devices such as digital cameras and webcams, etc.
5)Enhanced and Improved Accessibility Features: Introduced mouse control panel with the IntelliPoint feature. It helps the cursor to hide when type and show when Ctrl is pressed.
Source: Wikipedia
Related Articles: