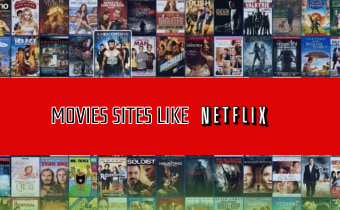 Netflix is still a king in movie streaming services in the world and dominating whole online movie streaming services. But Some might be unhappy with Netflix and there may be a large fraction of unhappy users looking for Netflix-like websites. If you are in the same stage then you are in right place.
So, before discussing the best sites like Netflix. Let's discuss something about Netflix and its strategy.
Here are the best sites like Netflix.
Table of Contents
Non-Free Category
1

Amazon Prime
It is an amazing paid movie website like Netflix.Amazon Prime offers more titles and has an incredibly large amount of content library of movies and TV shows than NetFlix.It is launched in 2006 as "Amazon Unbox" and later rebranded in 2008 as "Amazon Video on Demand" then "Amazon Prime Instant Video " in 2011

Like Netflix, Amazon Prime also provides a 30 day free trial period and after the trial period wants to continue then have to pay $99 /year. If you are prime membership then they offer free fast shipping for purchases, free kindle content, and exclusive shopping deals and selection.
Like Netflix, amazon prime also does not show any Ads within the video content. Also, if you like you can download the video for offline viewing.
Like NetFlix, Amazon Primes is also compatible wide variety of devices like amazon devices, amazon fire tv, android devices, android, and apple tv, Nintendo, Roku, smart TV, Web Browsers, Xbox, and many more.
2

Disney+
Disney+ is one of the newest movie sites like Netflix.Disney+ is the U.S. on-demand over-the-top(OTT) streaming service, owned and operated by The Walt Disney Company. Its parental company is Disney Media and Entertainment Distribution. It was launched on November 12, 2019.
Disney Plus is also one of the OTT streaming services for watching TV shows and films.
If you love children's content and family-friendly content or just want to watch classic movies and news from Disney then it's good to use Disney Plus. You will not find horror movies, crimes or r-rated(mature, adult, or vulgar) shows in Disney.
Disney 
does 
have 
children's 
locks
and 
settings 
so 
that Children 
can 
not 
see 
adult 
content.
It provides access to a lot of stellar classics old Disney cartoons like Steamboat willie etc. Like Netflix, Disney+ is compatible with a wide range of devices from smartphones, tablets, websites, smartTV, streaming devices, gaming consoles, etc.(more info)

Disney+
Netflix
Family-Friendly and Child-focused Content
Large Variety of Content
In the standard plan, 4K and multiple streaming are included.
Available to 4K support and multiple streaming support if upgraded from the basic plan

Prices started at $6.99 / month for disney+ only.

For Disney+, Hulu, and ESPN+ bundle,$12.99/month

Prices started at $ 8.99 / month.

Ranges from $ 8.99 - $ 15.99/month.

Has only 7 days of trial on all types
Have 3 months of trial in all three types of plan
Even in the standard plan, 4 simultaneous streams are allowed on all plan
4 simultaneous stream is allowed with Netflix + premium services.
Can create 7 user profile
Can create 5 user profile
Unlimited download available up to 10 devices

100 

downloads/device for 

up 

to 

four 

devices
3

 HBO MAX
HBO Max is an American AT&T WarnerMedia OTT video streaming platform launched on May 27, 2020 AD. 
Currently, HBO Max is only available in the U.S and certain U.S. territories.HBO Max offers a 7-day trial and if you like get HBO MAX as an all-in-one standalone service at $14.99.
HBO Max is a bundle of HBO Go and HBO Now library along with additional stuff like Warner Bros mass media content, blockbusters, and popular TV shows like Cartoon Network, Friends, The Big Bang Theory, Wonder Woman, and many more.
4

Apple TV+
It is an ad-free video-on-demand service from Apple which was launched on Nov 1st, 2019. It is started with 9 titles mostly TV shows. It provides 7 days free trial and after that charge a basic rate of $4.99 / month
Customers can enjoy Apple TV+ on iPhone, iPad, Apple TV(4K, HD, and 3rd generation), iPod touch, Mac, on smart TVs like LG, VIZIO, Sony, Samsung smart TVs, Xbox, Playstation, and on streaming devices like Roku and Amazon Fire TV devices, as well as on the web at tv.apple.com.
Apple 
TV+ 
will 
allow 
you 
to 
share your subscription with up to 5 family members. Also If you have Apple devices you can download your favorite apple originals and watch them offline later.
5

Hulu
Hulu is also an on-demand video streaming service co-owned by The Walt Disney Company(67% equity) and Comcast and was launched on October 29, 2007. Hulu is limited to the US only and using a VPN you can use it in other countries as well.
It provides a free 30-day trial after that you have to pay according to your plan. Price Plan ranges from $5.99 to $54.99 per month.
Let's look at Hulu Plan Prices.
| | |
| --- | --- |
| Per Month Price | Streaming In |
| $5.99 | Hulu On-Demand with ads  |
| $11.99 | Hulu On-Demand without ads |
| $54.99 | Hulu Live TV and On-Demand with ads |
| $60.99 | Hulu Live TV and On-Demand without ads |

Hulu On-Demand supports up to 4K Ultra HD video.
Hulu Supports target large devices ranging from
Streaming devices like Roku, Amazon Fire TV.

Smart TV like Apple TV, LG TV, Samsung TV, VIZIO SmartCast TVs, Fire TV, and Fire TV Stick.

Gaming consoles like Xbox 360, Xbox One, Nintendo Switch 

Browsers: Mac and PC browsers.

iOS and Android Smartphone and Tablets

Echo Show, Google Chromecast, etc
6

Vimeo on Demand
Vimeo on Demand service is the streaming option of Vimeo, the video-sharing platform. It offers a wide variety of choices for film streaming, stand-up comedies, Vimeo, etc. Vimeo On Demand products is available with a Vimeo Pro account. Vimeo on Demand allows creators to rent out or sell their own videos. The product permits site creators to set their own prices and offers geofencing and other tools to monitor the areas in which the contents of the product are available.
You can watch on various TV app platforms like Apple TV(only 4th generation and 5th generation/4K models running tvOS), Android TV(such as NVidia Shield TV, Sony TVs, Xiaomi Mi Box), Amazon Fire TV, Chromecast, etc. On Phone or tablet using apps or video websites through a web browser.
It does not allow downloading Vimeo view but it has offline viewing facilities.
7

fuboTV
FuboTV is an American live TV Streaming Services and launched its first services as soccer streaming in January 2015and later in 2017, it is changed to an all-sports service.FuboTV mainly focuses on channel distributing live Sports including ABC,FX,AMC,CBSN,NBC,ESPN,FOX,NBA,NFL,MLB,FYI,Fuse,Oxygen and many more etc.It supports Amazon Fire TV, Android TV, Apple TV, Samsung Smart TVs, Roku, Chromecast.
It has various plans." Family Plan" is the basic plan with $64.99 for 100 channels.FuboTV Ultra is an Ultra package plan with $84.99 for 199 channels. Other additional packages FuboTV offers are Fubo Cycling, Sport Plus, Fubo Extra, International Sports Plus, Adventure Plus, and many more.
8

Vudu
Vudu services were founded in 2004 having headquarters in Santa Clara, California USA. It is currently available in Mexico and the USA only.
Vudu and Netflix's business models are different. There is a monthly subscription for Netflix to watch but there is no such monthly subscription fee with Vudu. In Vudu, you have to either rent service and gain access to the service for a limited period of time and watch it or you can buy it. There are also lots of on-demand content available for free in Vudu.
If you watch only limited movies say around 1 or 2 movies a month then it's better and cheaper to rent it from Vudu than watching it with a Netflix subscription. 
Free Cost Category
1

Youtube
Netflix and Youtube business models are different. Netflix provides subscription-based services but youtube provides most of the content for free. You can get the latest series and movies on Netflix which you will not get on youtube.
Youtube Registered User uploads the video and gets payments based on ads shown when someone plays the video. ie Companies from Youtube get free content and advertise, whereas Netflix creates and distributes licensed content and sells subscriptions to Netflix users. Netflix has no ads because this platform makes enough money by selling subscription plans.
2

Crackle
Crackle is one of the best movie sites like Netflix. It is possibly the best-known competitor of Netflix. It provides good, user-friendly, and free streaming services with the best Hollywood movies and TV shows. Crackle has inbuilt video ads-supported which may appear suddenly before and middle while playing movies and TV shows. You do not have to pay monthly subscription fees as Netflix does. You do not have to sign up as well.

Crackle was previously known as Grouper and later sony pictures own it and renamed crackle. Its main content, therefore, comes from the Sony TV and film library. But also features the content of Soul Entertainment from Columbia Pictures, Tristar Pictures, and Screen Gems. It does not have premium options.
The services can be accessed in 3 languages: English, Spanish, and Portuguese in 21 countries. It is compatible with various types of devices like mobile, tablets, desktop, smart TV, Non-Nintendo consoles like PS4, Xbox One, PS3, Xbox 360, etc.
Cost : 0 $
Subscribe to a User who wants free stuff.
3

Amazon IMDb TV
IMDb TV stands for Internet Movie Database Television. It is another site like Netflix. It is amazon owned free and emerging streaming service. In January 2019 it started with the IMDb Freedive name but was subsequently rebranded to IMDb TV. IMDb TV provides popular TV shows and hit movies for free with video ads. Legally its content can be viewed in America. You can watch on IMDb websites, IMDb app(Android and IoS), Apple TV, Echo screen Devices, and many more.
Cost : 0 $
Subscribe to User who wants free stuff.
4

Tubi
Tubi is also one of the movie sites like Netflix which is providing a rich collection of classic movies and TV shows. If you want those types of movies and shows then Tubi can be a good start point. It is online, has lots of shows and films for people of any sort, and has a good user interface.
Tubi contents are video ads supported and those ads are around 15-30 seconds and are not skippable. You can watch their content without subscribing and even without login.
Available in a wide variety of devices like Roku, Amazon Fire TV, smart TV, Samsung Bluray players, android, ios,iPad, Windows and PlayStation, and web browsers at tubitv.com.
Cost : 0 $
Subscribe: No need